It is necessary to have an Aadhaar card ID. It is your identity card that comprises a unique number, your thumbprint, name, and date of birth. The ID is essential for several purposes like getting admission to an institute, filing insurance, etc. Aadhaar Card is mandatory for every Indian. You can download your Aadhaar Card online at the UIDAI website.
Download Now Buy Now
As you download the E-Aadhaar, it is a PDF file and the file is protected with a unique password. And the password of your online Aadhaar Card has 8 characters. These characters are the first four letters of your name and the birth year combination. The first four letters are in the capital. So, it is easy to guess the password of the PDF file to open it.
Precautions to Unlock Aadhaar Card PDF Password
Sometimes, many Aadhaar card holders have no idea of their passwords. They take help from free online PDF password unlock tools. Here they do a big mistake. Your Aadhaar Card comprises your personal information like biometrics and a number. You may put yourself in the trouble of leaking your personal Aadhaar Card data.
Therefore, don't trust online PDF tools that offer free recovery. They can steal your data. You can use Adobe Acrobat. However, Adobe Acrobat is available for a monthly or quarterly subscription, it can be costly for you to use. Another way is to get the license of a PDF password to unlock the tool.
Read Tips:- To Open password protected PDF Bank Statements

Softaken PDF Unlock Tool
Softaken is one of the most reliable names for applications. The online stores offer a range of applications for email client conversion, locking, and unlocking. Softaken Download Free PDF Password Unlocker is one of the best-selling applications. The tool has multiple features to make the unlock process easy.
Incredible Key Features to Unlock PDF
It is a Windows operating system that supports Windows 10, 8.1, 8, 7, and others. The tool takes less than 5 minutes to install and run on your Windows system. It consumes only 512 MB of minimum memory and requires only 100 MB of free space for installation.
The delivery of the utility takes place quickly. It may take around 15 minutes in business days. It sends via email.
For every interested user of the app, Softaken offers a free trial. It is a copy of the licensed version. The free demo pack is usable for up to 30 days. However, the licensed version of the app is valid for an unlimited duration. It means you can try the application as long as you want.
The application interface is interactive and requires basic technical knowledge to operate individually. Each tab tells its role to unlock PDF. There are a total of three steps to unlock a PDF file.
The program is free from bugs. It works offline. Therefore, there is no threat of data theft. You can unlock your Aadhaar Card PDF in a safe and productive environment.
The application can unlock one PDF file at a time. By unlocking, it allows users to print, copy text, edit and add an annotation to a PDF file.
You can use the app to remove security from PDF files. There is an optional feature to reset the password where you can enter a new password for your PDF file. After unlocking a PDF file, you can save it to the desired location in the system.
Some other benefits of the app are that it helps to split a PDF file, merge multiple PDF files, convert PDF to images, and helps add watermark to PDF.
Steps To Remove Aadhar Card PDF file Password
Download and install the PDF Unlocker Tool.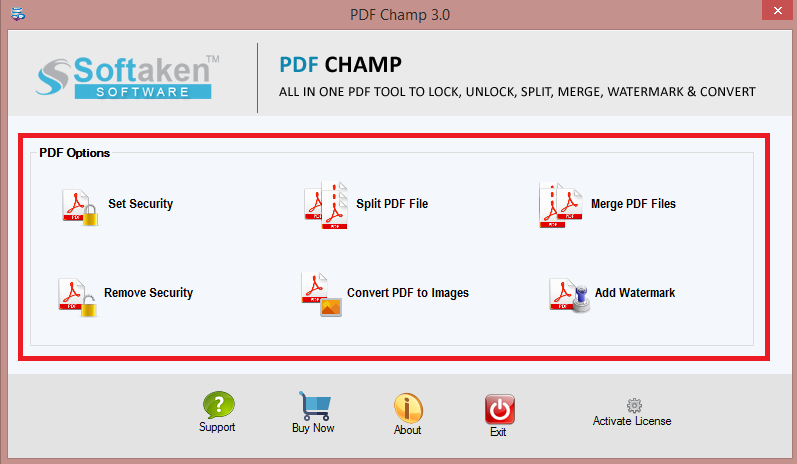 Pick the Remove Security options from the provided.
Click the Browse to add the PDF files.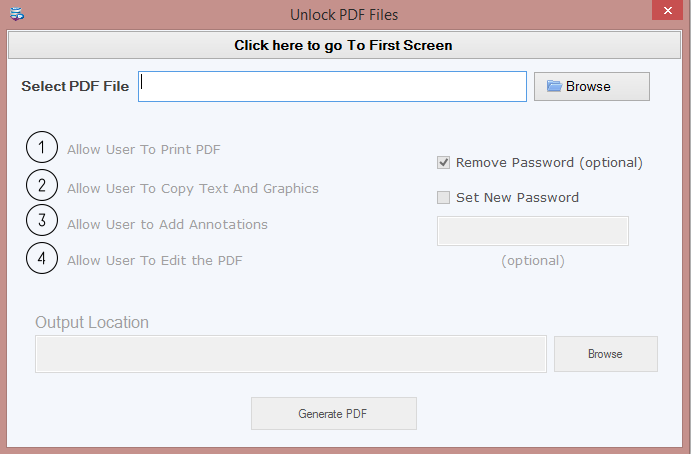 Then, select the location to save the resultant PDF files.
Finally, hit on the Generate PDF options to start the process the unlocking.
Conclusion-
One of the most widely used file types worldwide is PDF. It is a widely accepted file format for offices, institutes, and many other industries. Such a file is flexible to open on multiple platforms like desktops, laptops, and mobile, because of its lightweight and excellent compatibility, users like PDF file format more than any other file format. If you want to remove security from your Aadhaar Card PDF file, you can use a professional PDF security remover application. It is one of the best ways to unlock the PDF copy of your Aadhaar Card.