Are you looking for easy solutions to export MBOX data to ProtonMail Client? If so, you don't have to browse other links, the blog provides you an effective solution to transfer selective MBOX databases to ProtonMail Client. With the help of this solution, you can import unlimited MBOX databases to ProtonMail Client.
ProtonMail is a free and paid application. The cloud-based tool makes sending and receiving of emails easy and fast. It emphasises on users' privacy through end to end encryption. MBOX is a well-known file format.
Introduction to ProtonMail and MBOX
If you have come here to this blog to learn MBOX to ProtonMail conversion, you might be well aware of these platforms. Here is an overview.
MBOX is the file format of Windows, Linux, and Mac supporting email clients like Entourage, Thunderbird, Apple Mail, and many others. An MBOX file can hold single and multiple emails with attachments. If you are using this file extension, it is easy to share and switch from one email client to another email client supported by MBOX file format.
ProtonMai is available for free to users to use basic functions. You can pay for the application to get access to unlimited storage and multiple features. The cloud-based email client protects data privacy. It uses end-to-end encryption and zero-access encryption. It requires 2 level authentication. Therefore, users like to convert MBOX data to ProtonMail. You create an account with the email client to use it.
One of the primary features of this application is that it supports web browsers, desktop email clients, and mobile apps. It uses SMTP and IMAP.
Value To Money Solution to Transfer MBOX Data to ProtonMail
If you are looking for a value-to-money solution to transfer unlimited MBOX data to ProtonMail, you can consider a professional application. Softaken Local to Cloud Importer can be an ideal solution. The remarkable app can export selective MBOX data to ProtonMail. It provides accurate results during conversion. Data accuracy becomes 100% after conversion. The utility exports only required MBOX data to ProtonMail.
The advanced application lets you transfer MBOX data to ProtonMail through MBOX to IMAP conversion. In other words, you can transfer MBOX to the required ProtonMail account without losing quality. It is an all-in-one conversion app for professional and personal purposes. For personal use, the personal version is available at an affordable price. For professional purposes, the app has two suitable versions.
One is the business version and the other is the enterprise version. Both of them have the same features. The primary difference is the number of support it offers. The personal version can be installed on up to two systems only. The Business Version supports multiple systems, and the Enterprise Version supports more systems than the Business Version. There is no admin interference in the installation and running of the app. Users have full control over the functioning of the app. One of the best parts of this application is that it doesn't need technical assistance. The interface is interactive.
Steps to Export MBOX data to ProtonMail
In this process, download the application on your Windows system.
Next, you can filter folder or files by selecting the "File Mode" or "Folder Mode" for specific MBOX files for filtration.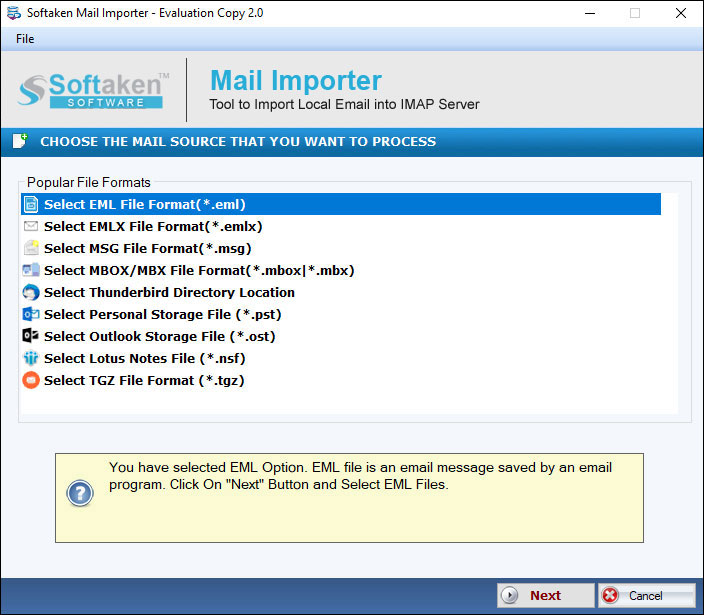 After that choose the desired MBOX files by clicking on the "Browse" tab.
Then, select "Export to IMAP Account" from given export options.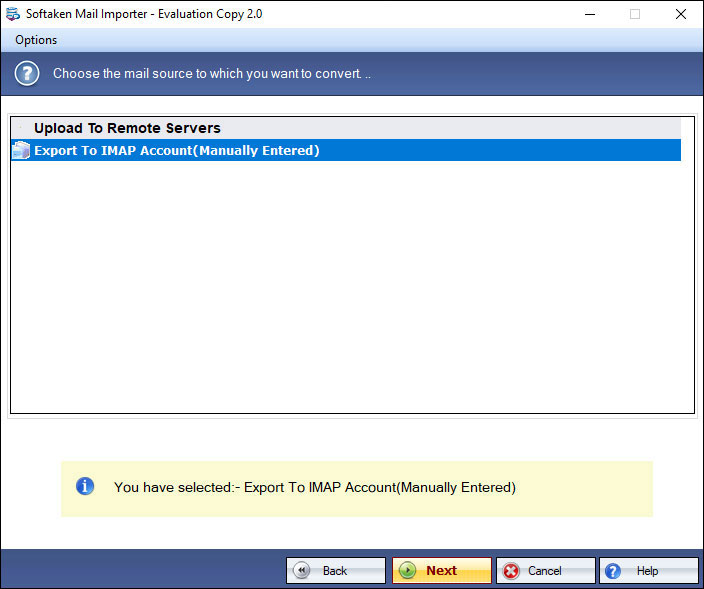 Enter the credentials of your ProtonMail account and press the Authenticate button to connect the tool with the account automatically.
Select an existing folder or create a new folder to transfer data
Press the Convert button to complete the process
Extraordinary Features of Softaken MBOX to ProtonMail Converter
The application has incredible features that astonish its users. Some of them are provided here.
Bulk Conversion: You can consider this application for bulk conversion. In other words, it allows you to export several MBOX files to ProtonMail at once. This activity saves time and effort. You can concentrate on production rather than conversion.
100% Accuracy: The application is a suitable choice because it gives 100% accurate results of conversion. It exports emails with all its properties. You can rely on the app to maintain hierarchy of data as it exports emails with attachments.
Connect with ProtonMail Automatically & Quickly: As you provide the user's credentials with host and port details, the tool automatically connects with the ProtonMail account. Makes sure at this time the internet connection is stable.
No Need for Technical Knowledge:It is a self-explained application. You don't need technical Knowledge to operate this tool. Even a new users can operate it without technical skills.
Unlimited Conversion: The application is available for users with a surprising element. It is its usage. You can use the app as long as you desire. Its license for personal and business versions is available for an unlimited duration. You can use the app as long as you desire.
Also Read :- Migrate emails from ProtonMail to Outlook PST
Conclusion
Overall, it is possible to import MBOX to ProtonMail quickly if you choose a third-party conversion program. Manual conversion solutions are limited and involve data loss risk. Do you want to take the chance? A third-party conversion program makes the data immigration process easy, fast, and accurate. ProtonMail is a remarkable tool to manage your emails.