If you are an organization that adopted email communication before it became mainstream, you probably are a user of IBM Lotus Notes, introduced in 1989. Back in the day, IBM Lotus Notes had no tough competitors. The tool had numerous features that outperform its competitors. Now, the times have changed. A cloud platform is replacing a desktop-based email client. When times change, it is wise to upgrade your technology with them to stay competitive. These days, Lotus Notes users are turning to Office 365.
Benefits of Office 365 over Lotus Notes
With time Lotus Notes have not changed much. There was a plan to convert Lotus Notes to a cloud platform, but it didn't fulfil. Below are some most probable reasons for the conversion of IBM Lotus Notes to Office 365.
It is more complex to maintain and manage Lotus Notes than Office 365 because it is not a user-friendly app. It requires users to appoint an admin team to manage databases. Office 365 is a cloud-based email client and doesn't need a team of technicians to manage.
Office 365 uses less RAM compared to Lotus Notes.
Cost-wise, Office 365 is cheaper than Lotus Notes. Businesses of all sizes can afford the cloud platform.
There is a compatibility issue with HCL Notes. It is accessible on your laptop or desktop while Office 365 is flexible to open on the desktop to hand-held devices.
Methods of Conversion from Lotus Notes to Office 365
Migration usually offers two choices. Users can choose either manual conversion solutions or third-party conversion programs. Manual conversion solutions are limited. We have discussed a safe and straight manual solution to transfer selective files to Office 365.
Manual Conversion Steps- To Lotus Notes to Outlook 365 by using the IMAP
It has four steps to export data. We request you to follow these steps if you are technically sharp or can hire a technician for this.
Backup of Lotus Notes Databases
During conversion, there are chances of losing file quality, so it makes sense to create a backup of NSF files. Backup of files assures data security if the migration process fails or the converted file meets with corruption.
Create Mailboxes on Office 365
In the second step, you need to create a new mailbox in our Office 365 account. Verify the details. Make sure the profile of your Office 365 account is matching with the Lotus Notes profile.
Also Read- How to migrate MBOX to Office365
Activate the IMAP Ports for Users
Here we take the help of the IMAP protocol to transfer Notes data to Office 365. Therefore, make sure you have enabled the TCP/IP ports for this-
Locate the Domino Administrator tab in your Lotus Notes
Press the configuration tab in Domino Administrator
After that, select the appropriate Server file
Take your cursor to Ports > Internet Ports > Mail
Now, modify the TCP/IP Port Value status to activate the Mail IMAP settings
If the port value is 143, don't modify it
Press "Save" to save the changes you have made
Now, Configure with the IMAP Connector
After enabling the TCP/IP port, it will activate the account and allow users to connect the IMAP connector of Lotus Notes to synchronize with Office 365 directly. The conversion time can vary depending on the file size and the number of files you want to export.
Using Third-Party Application to Migrate Lotus Notes into Office 365
A third-party application can make the conversion process easy, fast, and secure. With multiple choices, users may confuse about choosing an ideal program. Softaken NSF to PST Converter is one of the highly recommended applications to install in your system. The app enables the conversion of single or multiple NSF files to Office 365.
The app has received positive remarks from its users for fast and effortless conversion.
Steps To Convert Lotus Notes to Office 365 Converter
We can migrate Lotus Notes to Outlook 365, by using this utility, that explain in the below section.
Install and run the software tool on your system, then add NSF files by using browse tab.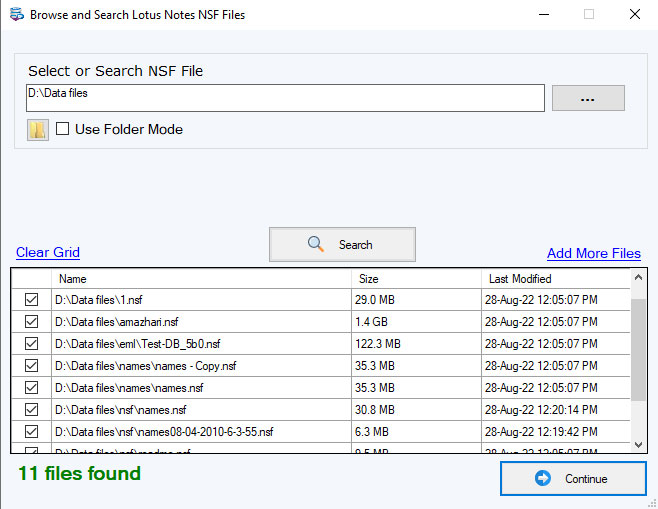 Show Preview of entire NSF files, and select the PST from the given conversion options.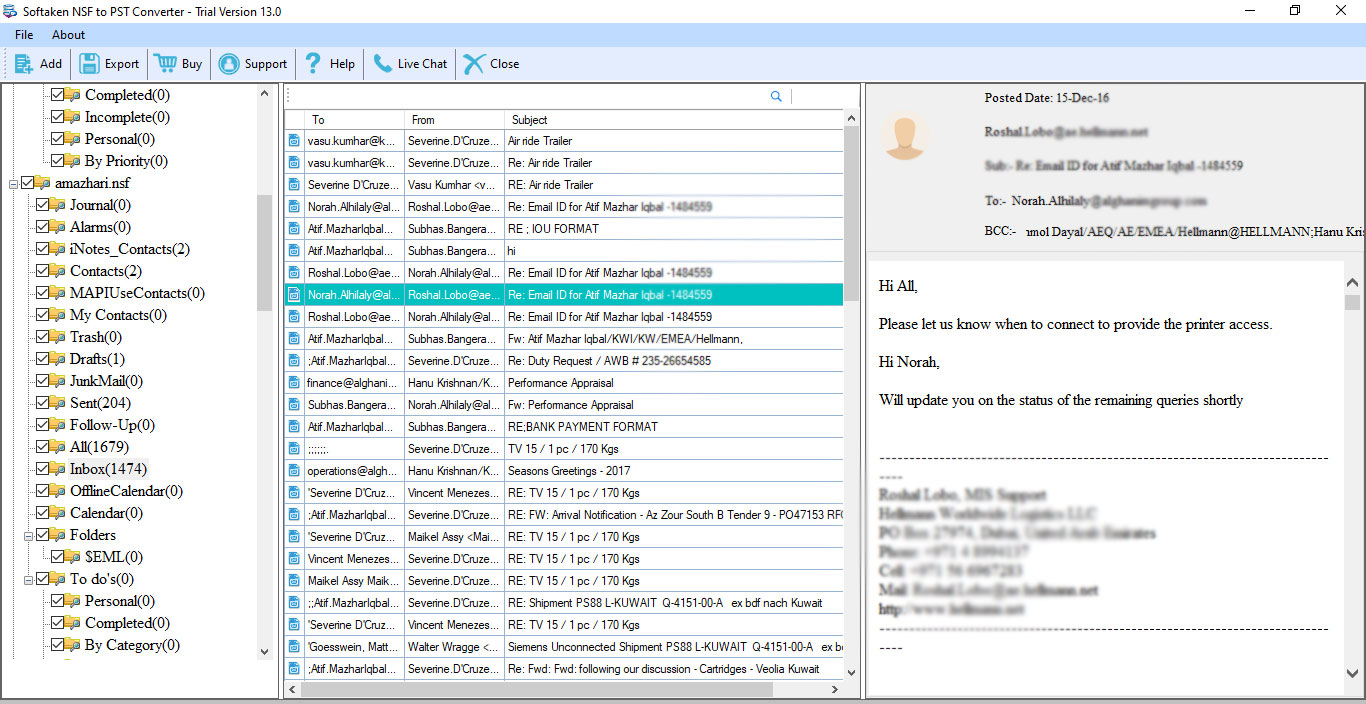 Choose the location to save resultant pst files, and hit on the Convert Now tab.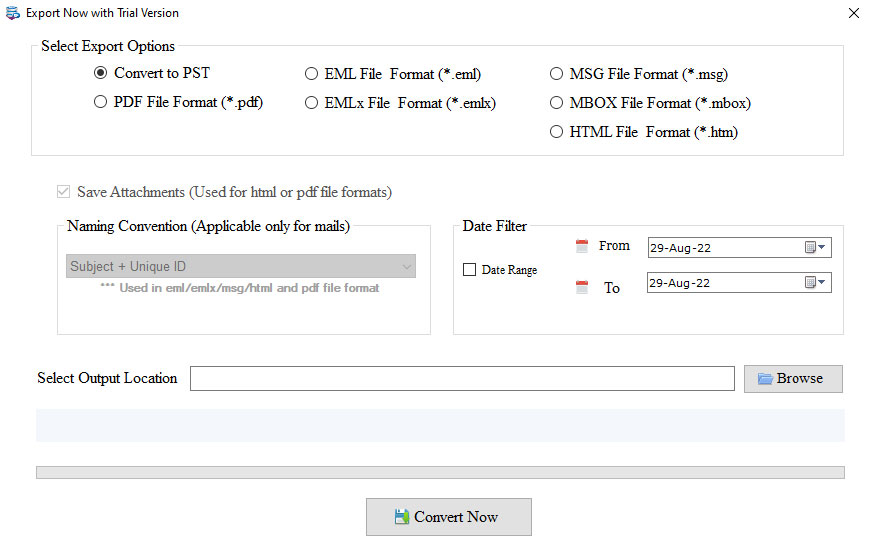 Note:-  After converting NSF files into PST, users can simply export Outlook PST files into Office 365 without facing any problem. So you buy try this tool for NSF to Outlook 365 Migration.
Below are the Features of the Software-
The conversion utility allows users to export single or multiple NSF files in one go. Thus, it saves the time and effort of users.
No file size restriction users face. They can export as many NSF files as they want at a time. Bulk conversion saves enough time for users. Therefore, the tool is a suitable choice for small and large businesses where the demand for the conversion of multiple files is higher.
The app requires no installation of Outlook to export data. It is easy to use and lightweight. Configuration and installation processes are easy to follow by anyone with basic technical skills.
It restores all original properties of emails, contacts, notes, messages, and other elements. It is a practical app for small to large businesses and individuals. Download the application on your Windows system before you choose it to export data.
Conclusion
Lotus Notes to Office 365 conversion is one of the best decisions because the cloud is an ideal place to keep data. If you want to export Lotus Notes to Office 365, you have two options to consider. Manual conversion consumes time and gives no assurance of data safety, while a third-party conversion tool is a reliable option.