Several email clients come and go, but some win the heart of users because of convenience and reliability. In the case of Mac, Apple Mail is one of the most commonly used server-based free email tools. Almost every Mac users like to use Apple Mail. Its interface is interactive. Though Apple Mail features are basic, they are valuable and practical. For individuals, Apple Mail would be sufficient for day-to-day tasks. If you are a user of Thunderbird, Entourage, WLM, or Outlook Express 5 and using the EML file extension, the article shares tips on how to export from EML to Apple Mail.
User Queries
Questions about how to export from Thunderbird to Apple Mail or Entourage to Apple Mail have surfaced on tech forum websites. We have picked one question from these forums to discuss problems users are facing during conversion.
"I have over 500 EML files that I want to export to Apple Mail. Recently, I have bought my first Mac system and exported whole EML files from Windows to Mac. Now, I want a fast and reliable solution to export whole EML files to my Mac system. Do you know how to achieve it"?
Such questions are often asked by users. They want EML conversion to Apple Mail. If you have the same query, the article can help you.
Reasons for Converting EML to Apple Mail at a Glance
Users want to switch from EML to Apple Mail for various reasons. Some of them are listed here-
Apple Mail is one of the safest applications by Apple and provides advanced features.
Apple Mail is catching up with Gmail to provide users with the best experience.
The tool allows users to create multiple accounts.
Some recently updated features of Apple Mail are Remind Me, Follow-up, Missing Recipients, Improved Search, Filter Your Inbox with Focus, and Remind Me.
EML supports desktop-based email clients, whereas Apple Mail is handy as it can open on your desktop and iPhone
Also Read this post to Know- How to import emails, contacts, calendars from Apple Mail to Mac Outlook
Simple Process to Transfer EML Files into Mac Mail
Conversion of EML to Mac Mail is not so difficult these days because users have more than one option to choose from. First, we discuss a manual step and then jump to a conversion tool.
Step 1: Configuration of Email Address in Thunderbird
If you use the Mozilla Thunderbird application, open it
Open your account in Mozilla Thunderbird
As you go into your account, you can see Local folders in the left panel of Thunderbird.
Now, create a new folder by clicking on the right button of your mouse
Use the drag-and-drop feature to transfer emails to the folder
It is how you can create a new EML file
Step 2: Taking Help of an Add-On Feature on Your Thunderbird
For this, visit Tools and press the Add-ons and then Themes.
Locate the ImportExportTools NG add-on and add it to Thunderbird.
After installing the third tool, restart your Thunderbird.
Now, place the cursor on the recently made EML file folder and right-click on it, and then press the ImportExportTools NG tool.
Choose the Export folder and save the EML file in the MBOX file format in your system.
Now, you can open your EML file data in MBOX file format.
The downside of the method is that it is suitable for users who want to export a few EML files. It is not for those who want to export a large number of EML files.
Automated Conversion of EML Files to MBOX
If you want a bulk of EML files to export to MBOX, a third-party application is one of the best bets to choose from. Choices for a third tool are many, but a few of them are popular because of reliability and convenience. Softaken EML to MBOX Converter free download is one of the best applications to choose. The app makes the conversion process smooth and error-free.
Some Significant features of Softaken EML to MBOX Converter are-
Easy to use as it needs basic technical skills
Export single or multiple EML files at once without losing quality
Export emails with their attachments to experience accuracy
Need no pre-installation of Thunderbird or other apps
A lightweight and easy-to-operate application for users
Available with lifetime validity
Steps to Use the App-
Download and install the EML Converter.
Choose EML files through File Mode or Folder Mode

Preview all selected EML files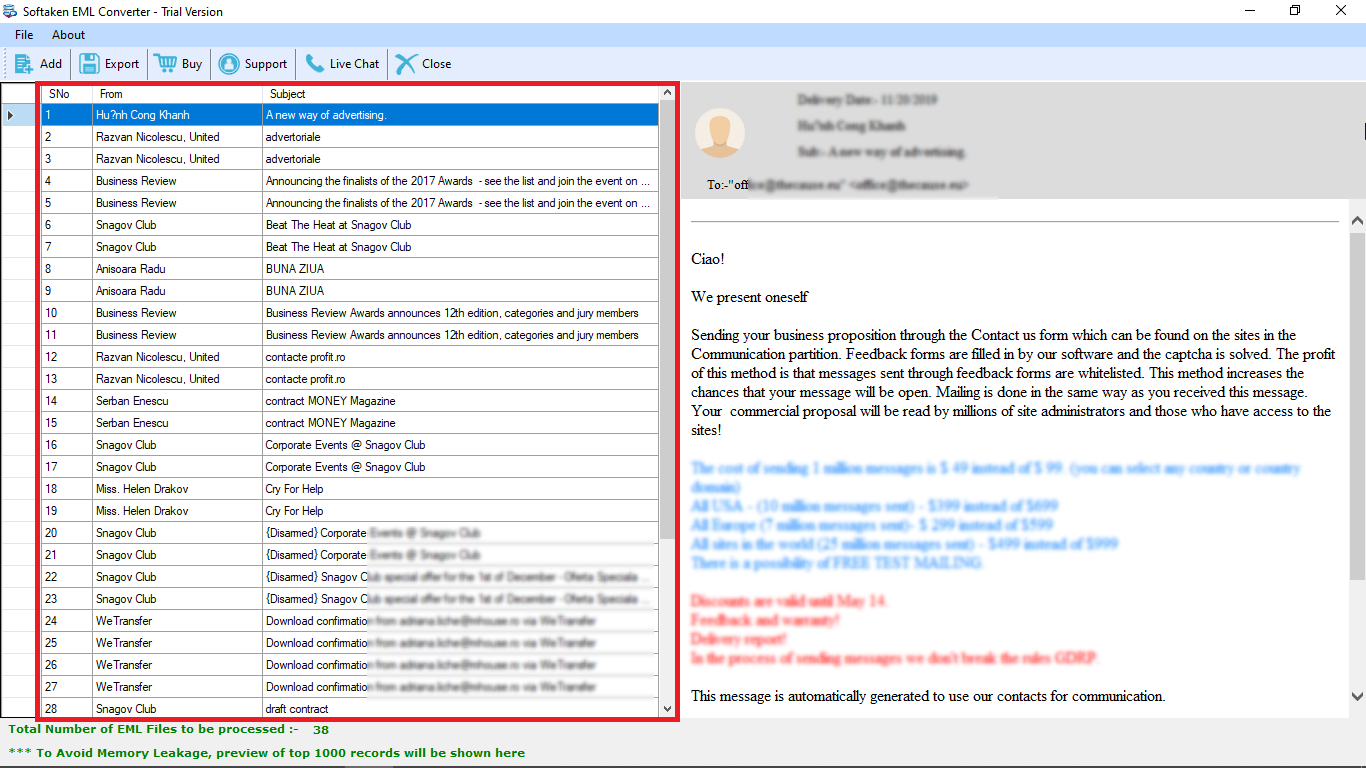 Select MBOX as the save format from the drop-down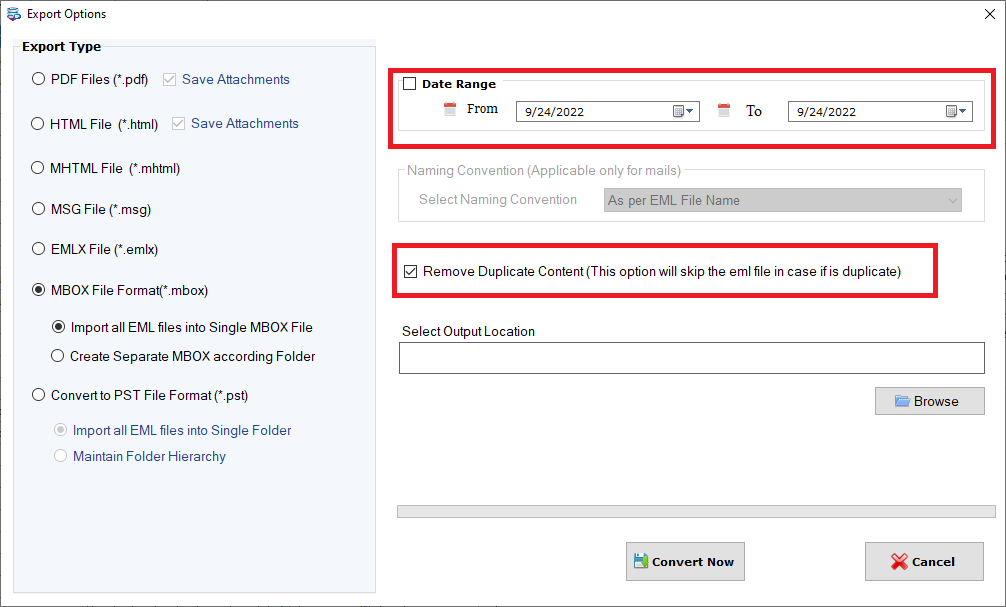 Set the output location to save the database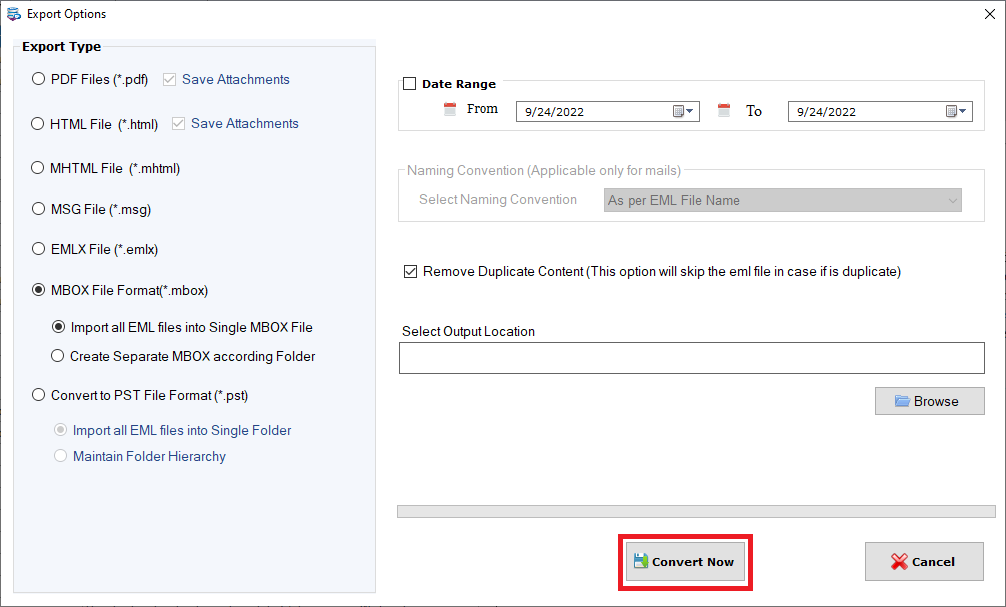 Press the convert button to transfer data
Isn't it so simple? Users have found the app reliable, lightweight, and easy to run. They have shared their experience and are happy with its performance.
Stage 2: Transferring MBOX to Apple Mail
Open your Mac Mail app and take the cursor to the File menu
Select the Import Mailboxes option.
The step move data to Apple Mail
Users can view MBOX files on Apple Mail.
Conclusion
How do you find the above steps? Apple Mail is one of the most common email clients for Mac users. It is free and handy. Since it is the Apple mail property, users trust the email client.