Migrate AOL Mail Data To Gmail Using Following Methods
AOL mail application is a web-based email application provided by AOL. It was started in 1993 by America Online and Delphi. At the same time, they started connecting their proprietary e-mail service to the internet. And by 1997, AOL mail became one of the largest email service providers with 9 million subscribers.
On the other hand, Gmail is the free email service of Google. The service also came somewhere at the same time but became one of the leading platforms for sending and receiving emails. This a third-party program, and it synchronizes email content via IMAP or POP protocols. In 2004, Google announced one-gigabyte storage, which is way higher than its competitors.
Why we have introduced you to both applications is because both email platforms are popular and users often switch from one platform to another in the search for a better service. In this post, we are going to share methods to migrate AOL mail data to the Gmail platform. Because a lot of users inquire about the same and face issues.
Primarily, two methods are present to migrate data from one platform to another. Both are effective and deliver results.
Method To Transfer AOL Mail Data To Gmail
Step One: Login to Gmail account and click on the gear button. The setting button.
Step Two: Click on Menu on the setting page
Step Three: Click on the option 'Import mail and contacts' followed by clicking on the button 'Import from another address'.
Step Four: Enter the AOL email address in the option "What account you want to import from"
Step Five: Enter the password in the column 'Enter your password', and then click on the 'Continue' button.
Step Six: Select both options 'Import contact' and 'Import email'.
Step Seven: Check option 'Import new mail for the next 30 days'. By clicking this option you allow an AOL mail application to copy all emails to Gmail account received within the month time.
Step Eight: It is an optional step. If you want to import labels as well, then click on 'Add label to all imported mails'.
Step Nine: Click on the button 'start import'
Step Ten: Click on the 'Ok' button.
This is the process to export AOL mail to Gmail account
Know The Limitation Of The Manual Migration Of AOL Mail Data To Gmail
The manual method to migrate data from AOL to Gmail is simple yet it has many hiccups. Some of the major downsides of the manual method are
It doesn't assure complete data migration. It migrates only the inbox mail and contact folders.
It takes time to complete the process. For large AOL file, the time could be a day or two as well.
It doesn't maintain email integrity as well as the core structure of the email.
There is always a chance of error and mishandling.
The Software Method Of Migrating AOL Mail Data To Gmail
The software method means taking the help of a professional tool for data migration. The Softaken IMAP to IMAP migration software is one of the best wizards for this type of mail data migration. The software is simple to use and assures accurate export of data. Additionally, it keeps the mail integrity and structure intact.
To work with software, one doesn't need any kind of expertise. It is simple to use as embedded with the well-explained interface. Here is the step by step guide to migrate AOL mail data to Gmail using the IMAP to New Server Transfer Tool.
Step One: Launch software on your device.
Step Two: You will two forms in the single window asking for authentication. In the first authentication form the AOL login details as you want to migrate AOL mail content to Gmail.
In the second authentication form, enter Gmail login details as this is where you want to transfer the data.
Once you will click on the 'Authenticate me' button, you will receive a confirmation mail. Do this one after one.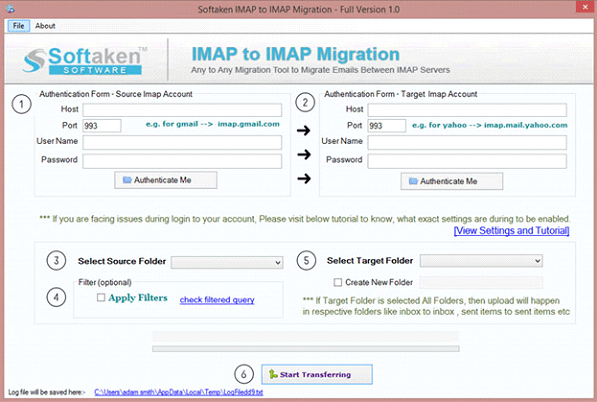 Step Three: If you want to transfer specific folder data to another account, enter the source folder details.
Step Four: Enter target folder details if you want to transfer data of source folder to the other account.
Step Five: Click on the button 'Apply filter' after that.
Step Six: Click on start transforming button. The data migration process will start as soon as you will click on the button.
The progress bar will show the status of the migration. The software also generates a log file in .txt format.
Advantages Of Using IMAP to IMAP Migrator Software
Support Migration To All IMAP Account - AOL is just an example. With IMAP to IMAP migration utility, you can migrate data of any IMAP account to another IMAP account without hiccups.
Complete Data Migration- Unlike the manual process, the data migration process with software is more cohesive. You would be able to transfer all the folders present in AOL mail to Gmail account, including sent, calendar, drafts, deleted items, custom folders, etc.
Selective Migration Possible - If you want to transfer only specific data to another account, filter options are there. This allows you to transfer the only specific folder to the new account.
Meta Details Remain Intact - During data migration, the software ensures that the format and properties do not change. All its details remain intact with the tool, including the meta details like attachments, to, cc, bcc, from, time, date and other details.
Compatible With All IMAP Servers - The software is compatible to work with all servers, including the person IMAP and business IMAP server.
Support All Windows Versions - User can run the software on all versions of Windows, including Windows XP, Vista.
Free Demo Version- If someone wants to check the features and functioning of the software. It has a free demo version. The demo version is integrated with all features except that it will not allow you to save more than ten emails per folder.
Conclusion: In this article, we have shared two methods to migrate AOL mail data to Gmail account. The manual method and software method. We recommend Softaken IMAP to IMAP migration software for the purpose as it is more authentic and delivers results.