Know to Comment on a Secured PDF File with an Automated Solution
Nowadays, users are securing their PDF documents with a password but in case, users need to add notes, comments on these PDF files. It becomes tough for the users to perform any action on it. With this article, know how to add comments in a secured PDF file.
Methods to enable commenting on secured PDF
To perform any action on the protected PDF, the users first need to unlock these documents. To do this, take help of an automated solution. PDF Unlocker Tool by Softaken is the professional tool that removes all type of restrictions from a secured PDF document. The application does not require Adobe Acrobat installation. With this utility, owner level security can be easily removed and then users can comment on the secured PDF without any difficulty. With these steps, the users can perform unlocking of PDF files.
Download and launch the application. Run the software and add PDF files from whom you want to remove the security.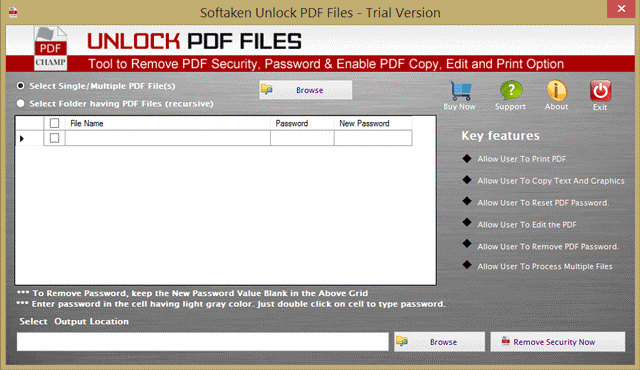 You can see all PDF files on the software panel. Provide password of these files to unlock them.
After that, provide an output destination to save the unlocked PDF files. Then, click on the Remove Security button.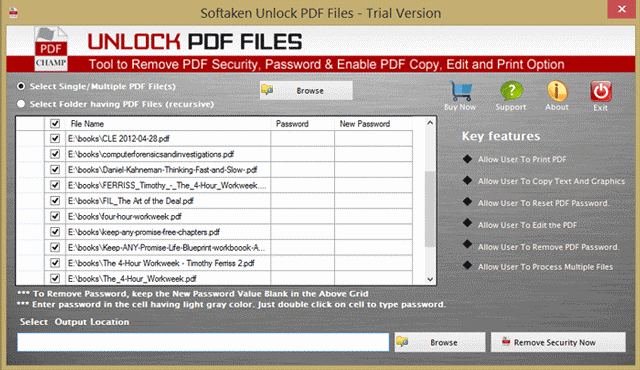 Once PDF files are unlocked, users can comment on them using Adobe Acrobat Reader which is discussed in the below section.
Commenting ways to PDF files
Annotation and Markup Tool
Comments are added successfully to the unlocked PDF files with the help of Annotation and Markup Tools which are not visible, the users need to look for them in the Comment feature in the secondary toolbar. For this, follow the mentioned steps –
Open PDF file
Click on Tools and then on Comments to open comment toolbar
Choose the desired Annotation tool
Add Sticky Notes
With the help of Sticky Notes, users can add a comment to the PDF file. Follow the steps for this –
Open Comment toolbar and select Sticky Note Tool option
Click on the location to place sticky notes
Adding a Text comment
Text comment can be easily added to the PDF files. To do so, follow the steps –
Click on Add Text Comment Tool from the Comment toolbar to add text as a comment.
Click on the page to add a text comment
Specify font size, font and other elements related to the text.
Add a Text box
Go to Comment toolbar and select Add Text Box Tool
Click on the PDF file
Select Text Properties from the comment toolbar. Choose color, alignment, and other attributes
Type the text and click outside the text box
Add a Line, Arrow, shape
Drawing Tools can be used in Adobe Reader to add line, shape or arrow. For this, follow the steps –
Go to Tools menu and then comment option
Click on Drawing Tools
Choose the drawing markup tools like rectangle, arrow, line etc.
Concluding Lines
Once users go through this post, it becomes easier for the users to comment on a secured PDF file. With the software approach, users can easily remove security from PDF documents and then users can add different type of comments with manual methods using Adobe Reader DC.