Steps to Convert Maildir to Outlook PST File Format
Check out the Easy Steps to Convert Maildir to Outlook PST file format
Nowadays, companies choose to work with various email clients according to their needs. Maildir and Maildir++ are also the file formats that organizations willing to work. Sometimes, companies wish to switch from Maildir to pst file format. In this blog, we will discuss the conversion process of Maildir to Outlook pst in easy steps. Follow the workable steps which you need to follow to convert maildir++ to outlook PST file format.
Get complete knowledge of Maildir and Maildir++ - What are these extensions?
The implementation of Maildir file extensions works only with a colon in filenames. Some of the systems if not allow colons. Then, in such situations, they can try to use an alternative separator like ";" or "-".
Folders under the Maildir known as a directory. There are three subdirectories named as:
These subdirectories contain the primary folder. If a new mail sent then that will delivered by the system. In these subdirectories, the folders are some advantages and extra directories.
Maildir++ file format is a minor form of Maildir structure. This file format used for saving the mail whose structure based on Maildir.
Maildir++ applies to support the subfolders and mail quotas. In Maildir++ file format the subdirectories saved with a .filename (dot)
Introduce Yourself with Outlook PST file Format
PST elaborated as a proprietary file format. This file extension handles to save a copy of different items. Like messages, calendar events, and many more in the MS software. Microsoft software includes Microsoft Exchange Client, Microsoft Outlook, and Windows messaging.
Many of the organizations work with this MS Outlook PST file format. These are handy to work as well as easy to use. Thus, the PST file format is one of the extensions chosen by large companies. PST file format handles important data like emails, contacts, events, and many more. The importance of PST file extension is that the complete mailbox data will be secure. Also, it is user-friendly. Anyone can work with a PST file extension. Because of this characteristic, many of the companies choose to work with PST file format.
While, Maildir file format works with the server. Thus, it is not allowed to access emails all the time. For accessing the email directory, the connection with the server is a must. Because of which companies choose PST over Maildir. While you can convert Maildir to Outlook PST in easy steps.
One of the Biggest Reason to Migrate from Maildir to PST file format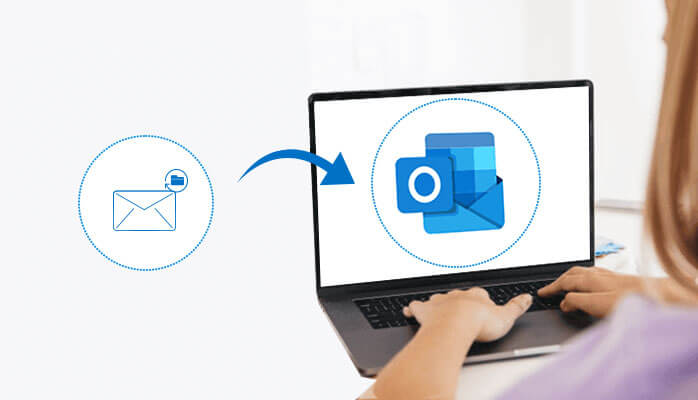 Large or small companies who are working with Maildir. They are willing to switch from Maildir to pst. One of the biggest reasons is that Maildir works with Server connections. This means you should have a connection before accessing emails. If you don't have a connection then it is quite obvious that you are unable to access your important data.
Thus, switching from Maildir to pst makes sense to work without any interruption.
Softaken Maildir Converter Tool - Step by Step Conversion
Step 1 - Open the TGZ archive file. Now launch the application. You need to download and install the software. Once you complete the software installation. All you need to do is to go to the start icon and search for the software name. Double click on the software name to get started.
This software is easy to use and the graphic interface is user-friendly. Thus, this makes a user handy to work with the software.
At the moment you start the software you will get to see the software UI.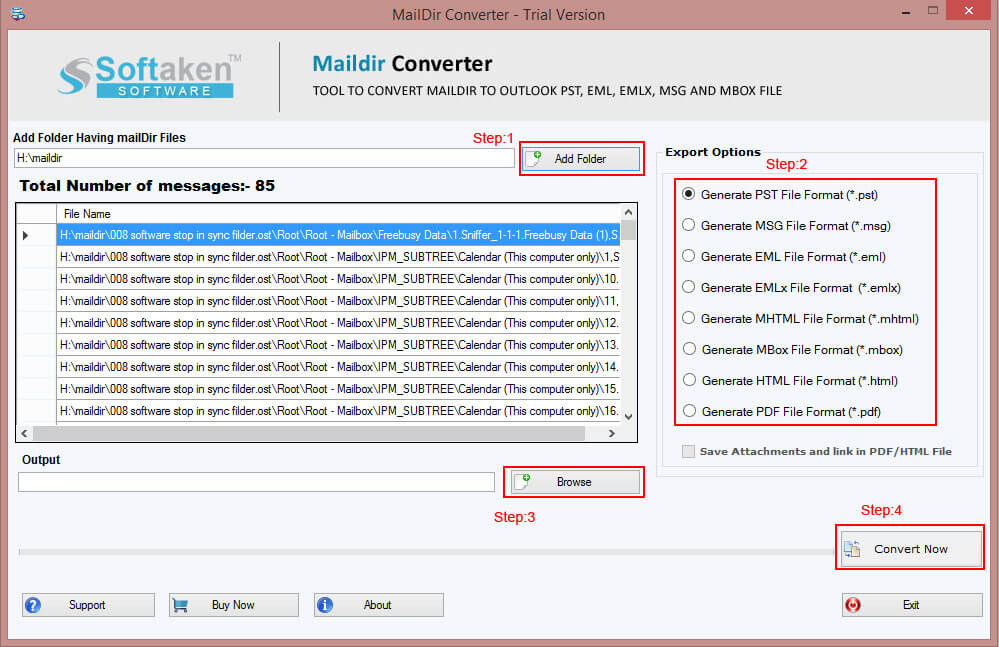 Step 2
In the next step, you need to browse the Maildir files from the add folder button. Once you add the Maildir files, upload the same over the software.
Next, you will see the export option. You will get 8 export options. Choose the one which best suits you. Users can convert from Maildir to any of the given file formats i.e. PST, EML, MSG, MBOX, EMLX, HTML, MHTML, and PDF.
Keep an eye on choosing the save attachments option and links in the PDF/HTML file.
The next step is to choose the destination where you need to save the output. For this step click on the browse button and select the destination path.
That's it, at the final step you need to click the convert now button.
Once you hit the button, all your required data get converted into the desired selected format.
Now you can check the output data at the located destination.
If you have downloaded the demo version software for conversion from Maildir to PST. Then you allowed to convert only 25 Maildir files. For converting more files, it recommends going with the license keys of the application.
Why Choose Professional Software Tool for Conversion of Maildir to PST File Extension?
Without wasting your crucial time, users can choose the Maildir Converter. This will help you to convert the Maildir file format to the Outlook PST file extension. PST files are easy to use and work with. Thus, it recommends going with the authentic tool available in the IT market. As these are not time-consuming and easy to work with. One of the major advantages of choosing a third-party application is that they also provide many formats to convert the file. One can convert any amount of data in few seconds. In case, you have any queries or doubt then they also provide 24*7 technical support.
People who want to access their emails hassle-free all the time. They can trust on Softaken Maildir Converter which is available at a low cost. They value your hard-earned money and thereby, they provide effective outcomes. Also, they assure you of the complete conversion of data from Maildir to pst. In case of any issues, feel free to contact technical support. The value users concerns and try to give valuable help at any time for free.