How to Migrate Contacts from Thunderbird to MS Outlook?
Thunderbird is a popular email client developed by Mozilla Foundation. It is an open-source email client including emails, address book, calendars etc. In Thunderbird, emails are saved in MBOX file format but the Address Book is in .mab file extension. Since MAB file is supported by other Mozilla email applications like Netscape, SeaMonkey etc. but cannot be imported directly to MS Outlook. Therefore, it becomes mandatory to export Thunderbird Address contacts to MS Outlook. In this given article, the whole procedure to import Thunderbird contacts to Outlook is discussed.
Importing Thunderbird Address Book into Outlook
Migrating Thunderbird contacts to Outlook process is divided basically into two stages –
Migrate Thunderbird Contacts to CSV
Import CSV file in MS Outlook
Step 1. Steps to migrate Thunderbird contacts to CSV format
First, we will export contacts of Thunderbird into CSV format. Let us discuss the steps to convert Thunderbird Address Book to CSV format. Here are the steps –
1. Open Thunderbird application on your system and go to the Address Book option from the menu bar.

2. This will open Address Book Window on the screen. After that, select the Address Book which you want to move from Thunderbird to MS Outlook.

3. Now, click on Tools option and choose the Export option.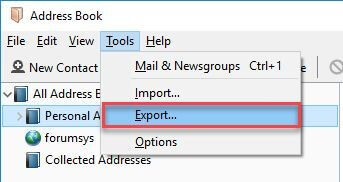 4. Specify a location to save the address book. Provide a file name and choose CSV file format in Save As type. Click on Save.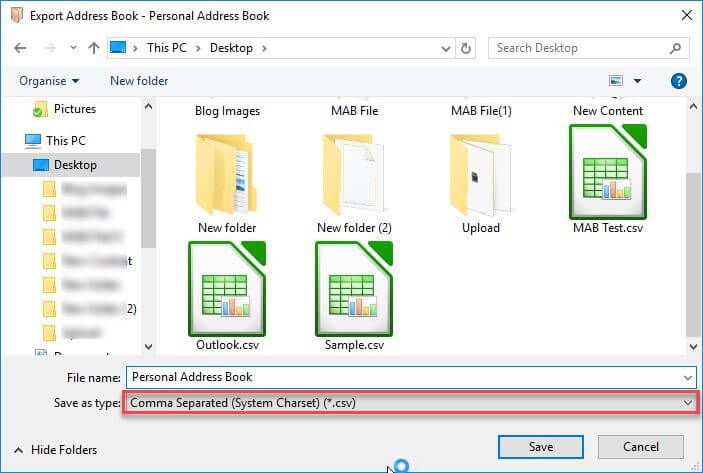 Step 2. Steps to import CSV file in MS Outlook
Now, after exporting Thunderbird Address Book contacts to MS Outlook. You need to import Comma Separated Value (CSV) file in Microsoft Outlook. Get the steps to import CSV file in MS Outlook 2019, 2016, 2007, 2003 and others –
1. First of all, open Microsoft Outlook Program on your system
2. Go to File menu, now choose Open & Export Option. Click on Import/Export Option
3. Import and Export Wizard opens, choose Import from another program or file option and press Next button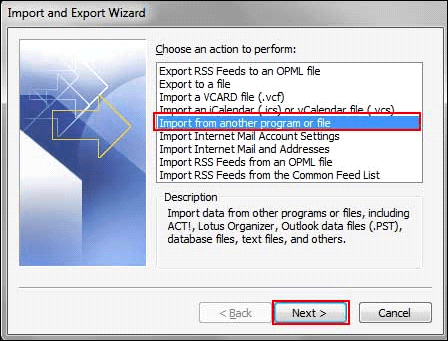 4. Next, you need to choose Comma Separated Values (Windows) and then, click on the Next button.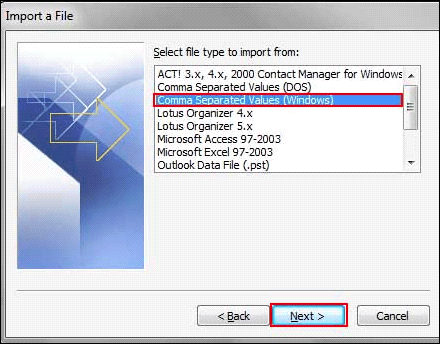 5. Browse CSV file that you have exported from Mozilla Thunderbird. Choose the radio button Do not Import Duplicate Items and click on the Next button.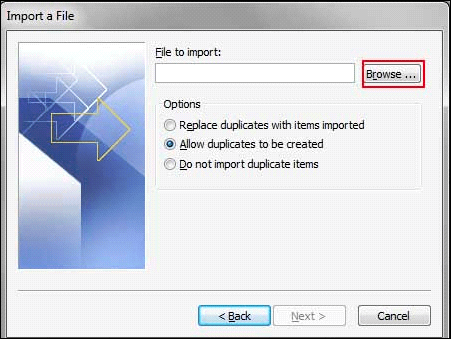 6. Select the desired folder where you need to import contacts and click on contacts and then, click on the Next button. It is recommended to choose Contacts folders as it is intended to store contacts. However, you can choose any other folder as per your choice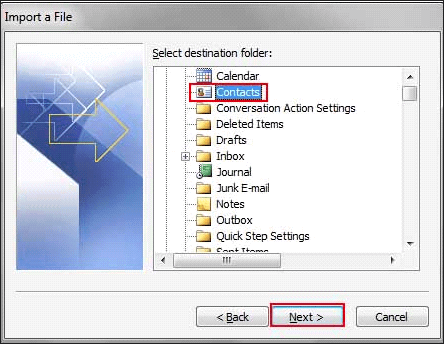 7. Under Import a file Windows, click on the Finish Button. Wait for the contacts to move from Thunderbird to Outlook.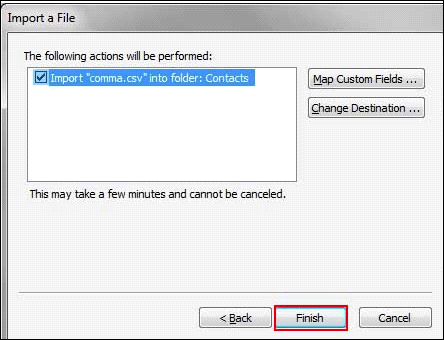 8. Press Map Custom Fields and you can map the contacts. Click Ok.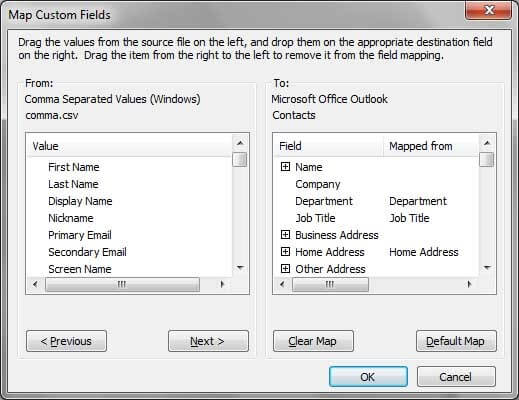 9. Now simply, click on the Finish Button.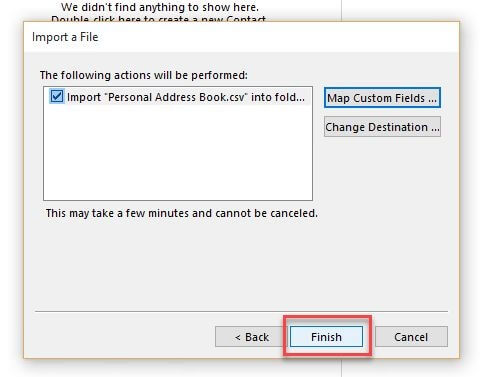 10. Finally, importing Thunderbird contacts to Outlook process gets started. The progress is shown in the image below –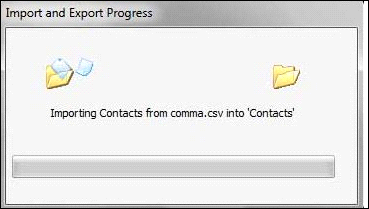 Conclusion
The article focuses on migrating Thunderbird Address Book to Outlook in Windows OS. If you are a Mac user, you need to export Thunderbird to CSV in Mac machine and copy the CSV file to Windows OS to import into MS Outlook any edition. We have completed defined the process to transfer Thunderbird contacts to MS Outlook for Windows users. This will guide properly to the users to execute the process.
Swift solution to export Thunderbird emails and attachments to Microsoft Outlook
If you want to export Thunderbird emails to Outlook, here is the effective software approach for you that will easily perform the conversion for you without any hurdles. You can use MBOX to PST Converter and get the conversion in a safe and effortless manner.