How to Extract Calendars from Outlook PST file and save to ICS and MSG?
In this blog, we will learn how to extract calendars from Outlook PST file and save into ICS and MSG formats. Here, we discussed a complete solution to extract Outlook calendars to ICS and MSG formats.
MS Outlook is a personal information manager that permits users to store and manage calendars, contacts, tasks, notes, emails, etc. in PST format. Sometimes, users want to extract calendars from MS Outlook to ICS format. Also, Outlook calendars are extracted and saved into MSG formats. Let's find the complete solution to extract Outlook calendars.
About ICS File format – ICS format is supported by Apple Calendar, Outlook calendar, Outlook.com calendar file formats. With ICS file format, users can easily share the calendar details to several email applications.
How to save Outlook calendars to ICS manually?
There are several manual and automated solutions available for users to export Outlook calendars to ICS format. Manual solution needs some technical knowledge and demands certain guidelines to be followed for the migration.
The manual method to move calendars from Outlook PST to ICS is as follows –
1. Open Microsoft Outlook
2. Go to Calendar icon on the left corner side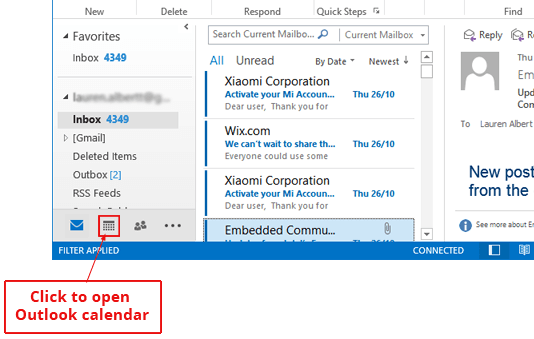 3. Then, move to File menu and click Save calendar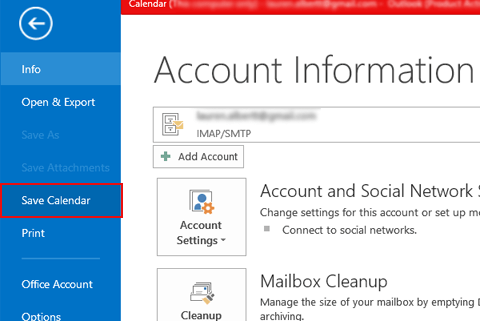 4. A new window of Save As appears, go to More options, choose all calendars.
5. Now, choose the desired option under Date Range option and finally click OK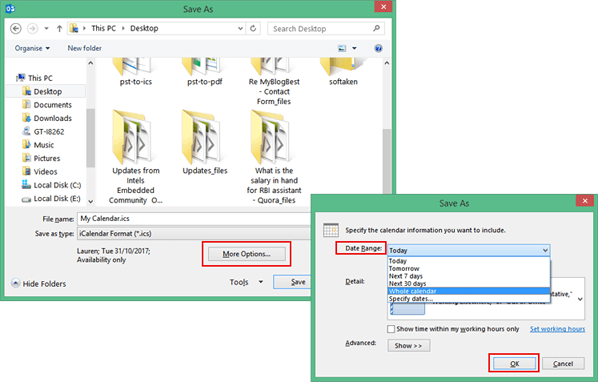 Repeat the above process to save other calendars.
The manual solution seems to be possible when you have a few calendars to extract from MS Outlook. This process becomes tough when users of thousands of calendar items to export from Outlook. Moreover, Outlook installation is must to accomplish the process of migrating calendars.
Softaken for Outlook calendars extraction to ICS and MSG
Mostly manual solution is lengthy, hence users can for the automated solution. One such solution is Softaken PST Mailbox Converter. With the help of this powerful software, users can extract Outlook calendars and save them to ICS and MSG file format. By transferring Outlook calendars to MSG and ICS format, they can be easily shareable with other users on different platforms. The software offers users an advanced solution to sync Outlook calendars to ICS format. Users can export all the information of Outlook calendars such as meetings, tasks, reminders, scheduling, etc. Also, users can extract calendars from multiple Outlook PST files at once.
Steps to extract calendars from Outlook & save into ICS and MSG
Step 1. Install the software and add Outlook PST file. You can add single as well as multiple PST files at once.
Step 2.Find preview of the files and Hit export button.
Step 3. Go to Calendars section and choose either ICS or MSG file format.
Step 4. Provide a location to save calendars. For this, hit the Browse button.
Step 5. Start the process to export calendars of Outlook to MSG or ICS.
Final Verdict
We have looked for the manual solution to export Outlook calendar to MSG and ICS format. The method appears to be time-consuming hence, a professional solution is recommended that can extract multiple calendars from various Outlook PST to ICS format.