Method to Compress PST File Size
The desktop-based email clients come with numerous user-friendly features that make data management easy. With desktop-based email clients, users have the freedom to use data the way they want, there is data privacy as data gets stored on a dedicated server instead of the cloud, it gives freedom to access multiple accounts in one account, transfer of complete database is possible, easy management of calendar, meetings, contacts with different features. There are numerous safety features present in the software that make it a secure platform.
At one end, the desktop-based email clients comprise of so many features, on the other hand, it has certain limitations as well.
Talking about the most popular desktop-based email application that is Outlook, then it has a size issue. There is a size restriction for PST file in Outlook.
With time because of receiving and sending emails from the account, the size of Outlook PST grows. When it reaches a certain size, users start facing complications working with their account. The issues come in the opening of email, delay in Outlook opening, error messages, and if ignored for a long time it might become the cause of PST file corruption as well.
For an Outlook user it is not possible to keep a track on PST length and restrict its increasing size.
The question is how to keep Outlook PST size as small as possible?
Here we suggest some methods that will help you in keeping your PST size small and database well-managed.
---
What are the Reasons for Increased PST Size and its Consequences?
The Outlook saves its data in PST file format. It stores all the emails, attachments, contact, meeting schedules, calendar, notes and much more in the same file. The more a user sends or receives emails the larger PST grows. Gradually, the PST file reaches its limit and sometimes cross it. And that is when the real problem comes. The consequences of large size PST are:
Outlook stores data locally on the hard drive of the system. The increased PST size means more space on the hard drive. For that, you might need to buy an additional hard disk to store data.
When PST gets oversize, it causes serious performance issues like latency in download or opening of mail in the Outlook client.
And the worst impact of increased PST size is corruption. When PST size grows to its maximum limit or exceeds its maximum limit, then corruption happens. In that situation, you must repair PST file to protect your crucial data present in the mailbox.
---
What Is The PST Size Limit?
Are you are curious to know what is PST size limit for Outlook? The PST size limit for different Outlook versions is different. Outlook saves data in two different formats ANSI and UNICODE. The Outlook 2003 and above version save data in the UNICODE PST file format. The size limit for this PST is between 20 GB to 50 GB. Outlook 2002 and below version uses ANSI PST file format. The size limit for the same is 2GB.
Outlook allows its user to save mail data based on the PST size. An ANSI or lower Outlook version user cannot save more than 2GB data in PST. Similarly, a user cannot save data more than 20 to 50 GB in Outlook 2003 and above version.
If they do so, then they are likely to see serious errors in the PST file. Some of the error messages linked with increased PST are:
xxxx.pst cannot be accessed – 0x80040116.Errors have been detected in the file xxxx.pst. Quit all mail-enabled applications, and then use the Inbox Repair Tool.
The file could not be added to the folder. The action could not be completed.
Task 'Microsoft Exchange Server – Receiving' reported error (0x8004060C): 'Unknown Error 0x8004060C'
The file xxxx.pst has reached its maximum size. To reduce the amount of data in this file, select some items that you no longer need, then permanently (shift + del) delete them.
---
How You Could Handle An Oversized PST File
Ask an Outlook Email application user how they manage their PST file, and keep its size in control. They would say, they delete unwanted emails from the file. This might seem a solution to you but actually, it is not. This is because delete emails get in the delete folder of PST file. If a user wants to retrieve deleted mail, they can do so by opening the deleted mail folder.
The other option is deleting the emails permanently, i.e. deleting emails from delete folder as well. This step is indeed a thoughtful way to clean your Outlook inbox file, but not for reducing the PST size. This is because even if you permanently delete emails from Outlook, it still occupies space on the hard disk of your device. This space is known as 'empty space or white space'. This occupies a significant amount of space on the hard disk and increases the size of PST.
The best idea to reduce PST size is to remove unused space from PST. By doing so you would not only be able to reduce the PST size but will also increase the Outlook performance.
Think how about you get an option to reduce PST size without deleting important emails or removing space from hard disk manually. Isn't that great idea?
Have a look at how to reduce PST size using the Outlook inbuilt tool
---
How to Reduce the PST Size?
There are two methods present to compress PST or reduce its size without losing or deleting data. The first method is the manual method in which you can take help of an Outlook inbuilt tool. The second method is taking the help of third-party software. The second method is more reliable and doesn't alter the data. But, before we recommend you any third party software have a look on the method to compress PST size manually.
The Outlook has an inbuilt tool that helps you to reduce PST file. We are going to use the same.
At first, you need to manage the Outlook mailbox size. Use the Mailbox Cleanup tool to view mailbox size mailbox and individual folders. The other option is to archive older items by moving them archive Outlook Data File (.pst) and also empty your Deleted Items folder. The step by step guide for the same.
Start Microsoft Outlook on your device.
Go to the taskbar, there click on the File tab and then info.
Here you will get option Cleanup Tools, click on the same and then to the Mailbox Cleanup.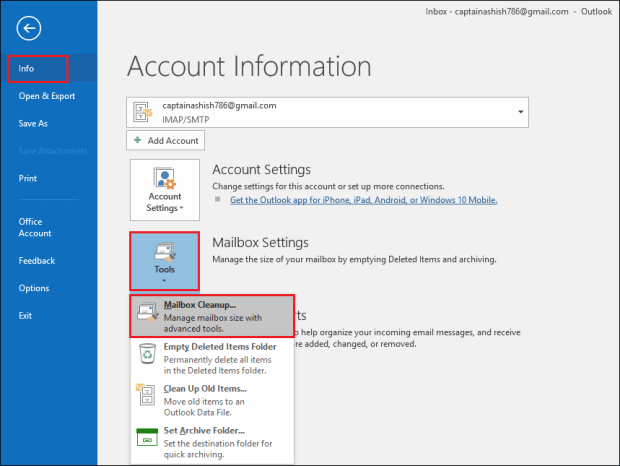 In Mailbox Cleanup dialog box, tab on option View Mailbox Size to view the total size of your Outlook mailbox.
Click on Close button after that.
Now follow steps to compact PST file
Again open Outlook and then go to the option taskbar. Click on File option, then Info, and then Account Settings.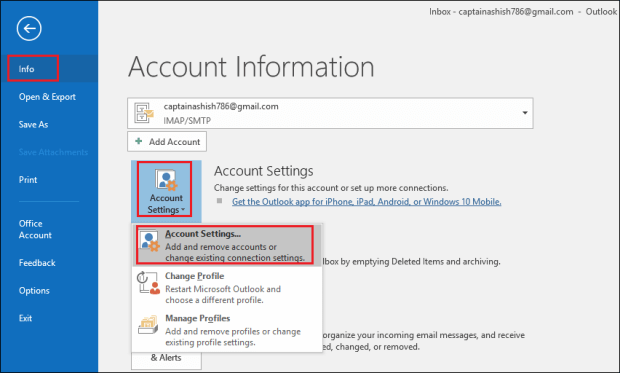 Click the Data Files tab in the Account setting page. Select the Outlook data file you want to reduce size or compact. Then click on the Settings option.
On the dialog box of Outlook Data File, click on Compact Now button to compact PST file.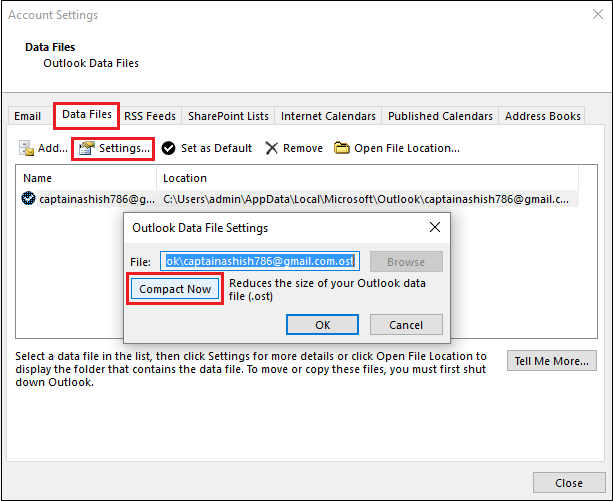 After receiving this command, Microsoft Outlook will start compacting the PST file size. Wait till the process ends. It may take some time.
After you have compressed PST file, you can use the described method to check its size again.
Note: Remove all unwanted mail and empty delete folder because compressing your PST file.
---
Use Professional Software to Compress PST
When you have a single PST file, using the manual method to compress its size is a good idea. But if you have multiple PST files to compress, then the manual method is not as effective as the third-party software. The third-party software like the Softaken Compress PST is a tool that allows you to compress the size of PST file in a quick time.
With software, it is just a three steps process to compress PST. It is a more credible, result-oriented and error-free method. Some of its key features are:
You can upload one or more than one file in the software at a time. It gives you two options for that, upload file, upload folder.
It removes or excludes duplicate items in PST
It supports both Unicode and ANSI PST files
It has a simple and advance interface that makes PST compression faster and error-free.
It ensures no data loss during the transfer.