How to Create PST File in Outlook
Steps to Create PST File in Outlook
Outlook Definition: Outlook is a popular and widely-known email client among Windows users. This not only acts as an email application but comfortably organize all database of the user that includes contacts, notes, journals, appointments, and many more. It works exceptionally when it comes to organize and sort messages.
PST is a common file format of Outlook that stores emails, notes, journals and entire information of Outlook. There are two types of PST- ANSI (2GB) and UNICODE (20GB or above).
---
Preventing Outlook from Getting Slow
Often, the email client offers auto-archive option for the old email items but it is recommended to pursue manual archiving. The archiving task is necessary as the size of the Outlook PST files expand larger which is troublesome. As the bulky PST files can interrupt Outlook speed. This can also interrupt speed of emails. Whether you are a regular or a slow user of the email client, it is must for you to archive old email data. For regular users, experts advice to archive PST files monthly.
---
Let's Understand the Basic Steps for Creating PST Files
Step 1
Start the MS Outlook 2007
Go to 'File' menu, then 'New' and after that choose 'Outlook Data File'
Step 2
A new window will open asking you to type the unique file name in the 'File Name' field and then press 'Ok'
Step 3
Again a small new window will open, where you can lock the file by providing the required password. Verify the password and click the 'Ok' tab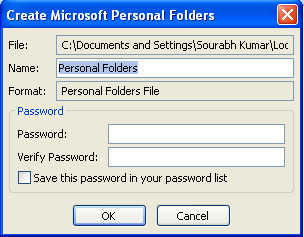 ---
Related Tools