Tips to Import OST Files to Microsoft Outlook versions 2010, 2013, 2016, and 2019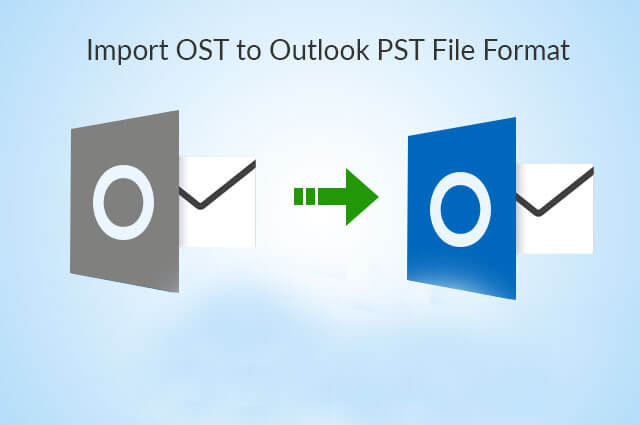 OST Files or Offline Storage Table files are encrypted Microsoft Outlook data files. These files get created once a user sets up a Microsoft Outlook account. All these files are linked to a particular MS Outlook profile that is created on a specific computing device. All the OST files are being used when the users have Microsoft Exchange Account and they wish to work on the offline mode. This is best in the case when there is an internet connectivity problem or server problem.
Another time when these files help the users Is when the user has to access these files on a different computer system or at a different location by using Microsoft Outlook. The problem associated with MS Outlook is that it does not support the manual importing of the items from the Outlook Data file. This is done to open an OST file in different versions of Outlook including 2010, 2013, 2016, and 2019 and you would need to convert these files into a PSF file format.
A Personal Storage Table, or a PST file is a personal folder file that can be created in Microsoft Outlook. This folder can be used for storing the
copies of messages, texts, emails, calendar, file attachments, and other related documents in Outlook. Files in the PST format are also used by the users for exporting different items from any email account. Users can also import all the items from other Outlook Data files using this file format.
If you can convert an OST file into a PST file format, in that case, you will be able to access these files in MS Outlook without any problem. In this blog, we have come up with ways that will help you convert OST files onto PST format for different versions of MS Outlook including 2010, 2013, 2016, and 2019. In this article, you will also get to know about an amazing professional tool that is the most effective and hassle-free way to converting the files into the desired file format.
Before that, here are some of the free solutions that can be used to Import OST file in Outlook 2010, 2013, 2016, 2019. The methods are:
Method 1: Utilize the Archive Feature of Microsoft Outlook
Microsoft Outlook has a built-in feature that allows its users to archive the data. It can be done by converting all the required files in the mailbox to a PST file format. However, one of the major disadvantages of this method is that it does not allow the users to archive the contacts in the Outlook Account.
Here are the steps of a free method that will help you to import OST files into Microsoft Outlook:
Launch the Microsoft Outlook application on your computers and head towards the OST file where you wish to export the Outlook Data.
Once done, hit the File tab, then click on the Info tab, and finally on the Cleanup Tool button.
Now click on the Archive button and make sure you do not click on the other available options on your screens.
You will now see a dialog box in your screens where you have to make sure that the Archive this folder and all subfolders checkbox is checked, if not, do it.
Now select the folder of your choice that you want to export to a PST file format
If the items you are looking for are older than the mailbox, give a date. This will show all the files that were received before the date of the archive.
Now select a destination of your choice where you to store the new PST file.
Once you are done with the process, click on the OK tab to end the process.
Method 2: By Utilizing the Import or Exporting the Wizard
To begin using the second method, you would have to log in to your Microsoft Outlook account that you used to create the OST file. Now follow the below-mentioned steps to convert these OST files to PST file format;
Head towards the Files tab and click on the Open & Export button. Once done, hit the Import & Export tab to process further.
Now choose the Outlook Data File that you want to convert, and click on the Next tab.
Select the folder that you to export. Once done, hit the Next button
Search the destination on your computer where you want to save the newly created PST file and click on the particular option considering the duplicate items.
The method mentioned here is a free tool that helps in converting the OST files. However, this method only works if you are connected to MS Exchange Server.
Method 3: Drag the items in Mailbox and Drop them
Now we have mentioned steps that will help you to relocate the OST files and convert them into PST format.
Start the Microsoft Outlook application on your computer
Once done, open a PST file on the Outlook
Drag the entire mailbox that you want to export in the blank PST file.
Now, this method is not as easy as it seems. It is very time consuming and complicated, particularly for those who are not much comfortable with technical things. You have to follow the above-mentioned steps every time for every single OST file that you want to convert into PST file format. Another drawback of this method is that you cannot move the attachments along with the OST file. For that purpose, you have to create a separate PST file for each attachment.
Professional Method to Import OST files into MS Outlook 2013, 2016, 2019
If you have reached this section of the article, then you must have understood the complexity of the above-mentioned methods. These methods are not just complicated but also not effective. Any wrong step could either result in data loss or related problems. Hence, it becomes important for you to use a professional method that is both effective and easy to use. We are talking about Softaken OST to PST Converter tool.
This tool can be used to convert all the OST files to PST file format and supports all kinds of emails, contacts, notes, and attachments that can be operated without any difficulty. Users also get a preview option with this software that helps them to get a detailed view of the OST mailbox before saving the files to a new PST file format. This tool has been designed in such a way that it keeps all the original OST files intact during the complete process. Even if a person is using this tool for the first time, there would face zero difficulties. Follow the below-mentioned steps to use this tool.
Steps to Import OST File to Outlook PST
Download and Install Software for Importing OST File in Outlook.
Run the software and click on the Open button to select an OST file.
Once done, run the Scanning mode that will tell you if any file is corrupted
Once the scanning is completed, click on the Ok tab to process further
Using the preview option, check your OST mailbox before beginning with the conversion process
Hit the Save and click on the folder path to recover all the OST files
Hit on the Ok tab to convert the files
Once you have followed all the steps properly, the OST file will get converted into a PST file format.
Why You Should Import OST File to Outlook 2016 and below versions?
Now you must be clear with the fact that an OST file cannot be directly imported to MS Outlook. We have to first convert it into PST file format and then only it can be imported. Here are the reasons that will make it more clear to you as to why the OST file has to be converted into PST file format.
There are times when MS Exchange Server crashes. It results in many inconveniences and troubles for the users. The users can access their mailbox content while being offline, but it comes impossible for them to make any changes to the files. That is the reason converting OST files into PST files helps in accessing the files and making required changes.
If you happen to see an error message, i.e. OST File Cannot Be Opened in MS Outlook, you would have to convert and import these files into PST Format
The MS Exchange Server goes into maintenance after a certain period. In that case, you are unable to access the content of your mailbox. However, if you have the files in the PST format, you can operate them anywhere and on any device.
If you wish to migrate the mailbox content to a different place, you must convert these files OST files into PST file format. By doing this, you would be able to migrate all the content of the mailbox without any difficulty.
If you have to switch to a new business that does not require MS Exchange Server, but you do not want to lose the data, in that case, you would have to convert the OST files into PST file format to access all the old content of your mailbox.
There are chances that the OST files might get corrupted due to various reasons. In that case, you would have to convert them into a PST file format to access them.
Conclusion
OST Files might contain some important information related to your business. No one would enjoy losing the information because of server problems. That is the reason why everyone must save the OST files into PST file format and import them to Outlook. This would help them to access these files while being offline. There are many free tools or manual methods that can help you to convert the files. However, all those methods are complicated to use and consume a lot of time. This is the reason it is recommended to use Softaken OST to PST converter tool.