Method to Use Outlook Express DBX files with Windows 10
"Outlook Express is my foremost choice when it comes to using a free email client. I like to use the app to manage my emails. However, various advanced tools have been launched so far and the popularity of Outlook Express has faded somewhere. Now, I am operating Windows 10 at the office and Windows 8 at home. Some days ago, I tried to install OE in Windows 10, but I discovered that it was not using the same database as the original OE 6. After so many unsuccessful attempts, I tried to install OE in my Windows 8 with the thought that the tool will save my emails to the location or folder that it used to in Windows XP. It was not saving emails to the location that it used to. It was an annoying experience. Now, I want anyone can help me out. I want to install OE in my Windows 10 and Windows 8. I will feel glad if anyone provides with a realistic way to fix the problem. Thanks in advance!"
Outlook Express- An Email Client by Microsoft
Who doesn't know about Microsoft? The tech giant has launched several tools and MS Outlook Express is one of them. It is one of the best and the most downloaded app of its time. The email client performs fast. It is recommended for all the basic features to manage emails, calendars, and personal tasks. In earlier versions of Windows OS, it was available as an added tool with Internet Explorer 3 and Outlook Express 6 was available with Windows XP. Microsoft kept it updated to enhance users' experience. Later, the tech giant introduced Outlook Express 7 which was designed for Windows 7 and replaced by Windows Mail that failed to give a tough competition to OE.
Let's Know How to Install Outlook Express in Windows 10/ 8/ 7
There is no doubt that MS Outlook Express is one of the best email clients, but the Microsoft product is now outdated. Microsoft has launched its upgraded and advanced tools. If you want to download OE from the official website of Microsoft for free, you will not find the application. Microsoft has stopped providing the service of Outlook Express. It is no longer supporting OE to fix bugs, enhance security, and any kind of support. If somehow you download the tool in your Windows 10 or 8, the chance is that your Windows can delete the software if the automatic update is activated. Your system can corrupt.
All in all, it is wastage of time and effort to look for options to install Outlook Express in your Windows system. It has been outdated. Various other smart and more functional alternatives are available to choose from. Some of them are here-
Microsoft Outlook is the product of Microsoft that was launched to outperform Outlook Express and other tools. Microsoft got enormous success for MS Outlook because it is advanced and more than an email client. The Microsoft product helps users to send, receive or organize emails, manage address books, tasks, and calendars.
Recommendation: If you are interested in exporting Outlook Express data to Outlook express, it will be useful to install a program that supports the conversion.
eM Client is one of the best-recommended applications to use for personal and professional purposes. The tool gives users full control over its functions. It helps to unify contacts, inbox, outbox, calendars, and drafts. If you want to use the app for personal use, it is available free of cost. Doesn't it sound cool?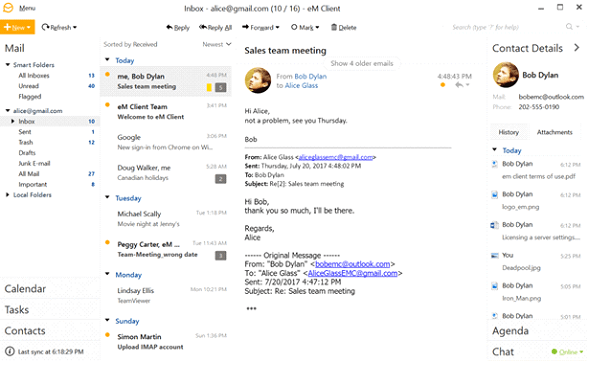 Mozilla Thunderbird is a multi-task performer as it helps to manage emails as well as newsgroups. The tool is the most powerful and easy to operate. Mozilla Thunderbird saves data in EML and MBOX file extensions. They are flexible to open with multiple email clients. Thunderbird supports IMAP and POP email accounts.
Recommendation: Install the Softaken DBX to MBOX Converter or Softaken DBX to EML Converter to install the application.

Gmail is one of the best server-based email clients. It stores emails, contacts, and messages. The Google product has won the heart of many because of the interactive interface and high-end security features. Gmail offers both free and paid services. The basic paid feature can be suitable for any organization.
Recommendation: We recommend you use the Softaken Gmail Converter to convert Gmail data.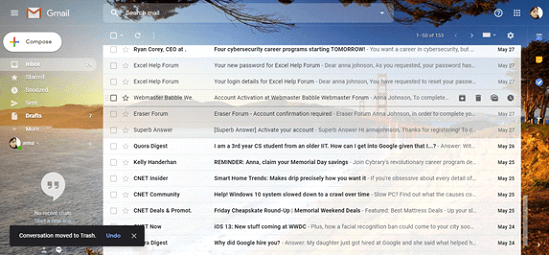 Looking to Switch from Outlook Express…
If you have dropped your ideas to use Outlook Express on your Windows 10, what will the best alternative to Outlook Express? You can choose any of these above mentioned applications. They are popular among personal and business users for their smooth performance. For, conversion of OE data to Outlook Express, Thunderbird, eM Client, or any other popular tools download Softaken DBX to PST Converter.
4 Easy Steps to Export DBX to PST/ EML/ MBOX/MSG:
Install and configure Softaken DBX to PST Converter Tool
Now locate and add a particular DBX file and preview its emails
Set the output location of the converted PST files
Finally, press the "Converter" tab
Let's Know in Detail-
First, download the Softaken DBX to PST Exporter in your Windows 10, 8, 8.1, or 7 by following a few easy steps. It is easy to follow.
Save the application icon on your desktop for easy access to the app.
Now launch the app on your desktop by clicking its icon. It will take a few seconds to open.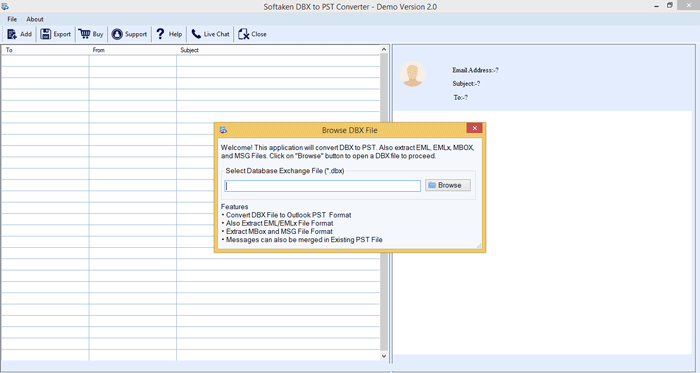 The tool opens with two wizards. The small-sized window asks you to browse a particular DBX file. You are allowed to do a manual search to locate a particular DBX file from local folders to browse and upload in the program for conversion.
As the application installs the particular DBX file, it displays the data of the particular file in the tree format. It is an added feature of the app that works as an "Outlook Express Viewer." The preview pane features To, From, and Subject in the tabular format. Each email can access separately in detail. Users can read the email content clearly. However, they cannot modify the email content.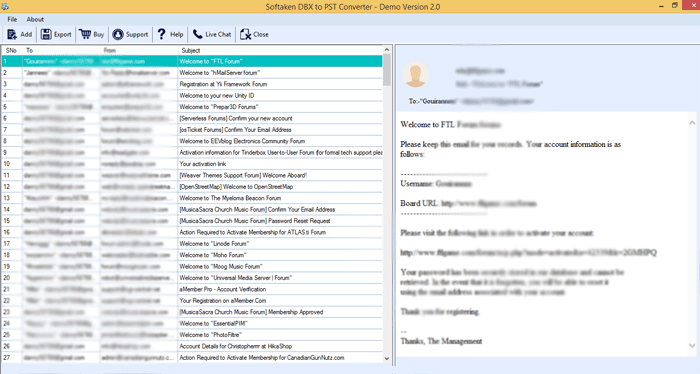 The next step needs you to choose the export type. The tool offers to save the DBX file format in-
Convert to PST
MSG file format
MBOX file format
EML file format
EMLX file format
Users can select any particular format to save the DBX data. If they select "Convert to PST", the tool offers the flexibility to save the exported data to either a new folder or an existing folder. Users can feel comfortable selecting anyone.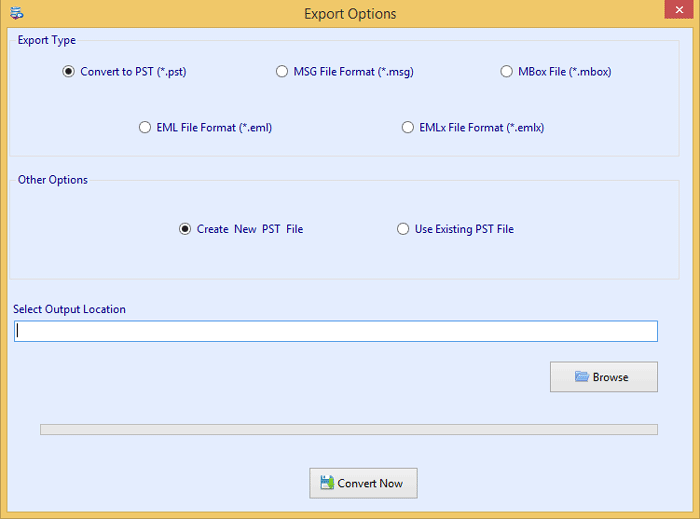 Now, select the desired output location from local folders. It can be any folder of your choice. The feature helps to manage the converted data smartly.
In the end, press the "Convert Now" button to give the tool the command of conversion. The tool makes the conversion steps very easy. Even a novice can handle the app independently. It is an outstanding feature of the app.
Frequently Asked Questions
Can I operate or run OE on my Windows 10?
Yes, you can download and run Outlook Express on Windows 10, 8, and 8.1 with the help of some extensions. But, how long you can able to use the app is difficult to say because it is no longer supported by Microsoft. As your Windows system detects Outlook Express, it can delete the tool automatically. So, be careful of your data.
Can you suggest the best alternative for the OE email client?
There are several alternatives available. You can go with paid email clients like Microsoft Outlook and free email management tools like Mozilla Thunderbird, Gmail, eM Client, Apple Mail, etc. They are excellent alternatives for the OE.
Is Outlook Express a paid program?
No, it is a free email client to install on your Windows 10 and other older versions of the OS.
Is Outlook Express still in use?
Microsoft is not supporting MS Outlook since January 2017 after introducing MS Outlook. Moreover, it is not available to install from the official website of Microsoft, but you can install the program from some pirated websites which we don't suggest.