Migrate Eudora to Apple Mail/Mac Mail – Complete details
If you have a query to migrate Eudora to Apple Mail, then this blog is helpful for you where we have discussed a smart solution to perform the migration. Since Eudora and Apple Mail, both applications have different file formats for data storage. In case of migration from Eudora to Mac Mail, accessing old clients (Eudora) database to the current client (Apple Mail) is difficult for users so it demands migration. Before moving to the solutions, let us get a brief introduction about these clients and the reasons for this migration.
Description – Eudora and Apple Mail
Eudora, which is a well-known email client for Windows and Mac OS users but it become outdated and, in this case, Mac users generally prefer Apple Mail which is famous for its well-known security features. Apple Mail is a secure email application that completely secures the user database from hackers and viruses. Eudora has MBOX files for saving emails and Apple Mail uses EMLX format. While moving from Eudora to Mac Mail, the migration is required to access the old database.
Core reasons to export Eudora to Mac Mail
A user could have n number of reasons as per their requirements. Here, we are discussing some of the main reasons to export Eudora emails to Mac Mail –
A user who is using Eudora client on Windows system, decided to move to Mac Mail. Therefore, it needs migration.
Apple Mail is a safe email application that prevents user database from hackers and ransomware.
Technique to migrate Eudora to Mac Mail – Softaken Eudora to Apple Mail Converter
We are explaining a simple technique that suits all kinds of users to make the export process of Eudora emails to Mac Mail comfortable. The application has a user-friendly interface that is easy to operate by all users. No prior technical expertise is needed to handle the application. Without any loss of information, the tool delivers complete export results. Bulk conversion of the database is supported by the application plus there is no issue of Windows OS, the utility suits every version of Windows OS.
The first step is to download, install, and launch the software on any Windows operating system. This takes a few seconds.
After installation, when you run the software, it asks for loading Eudora files. You can pick folder or file mode and using the Browse button, you can add any number of Eudora files.
Selection of Export Option
After scanning all files, the utility asks for an option in whom you want to save the files. Pick EMLX format (as you are choosing Apple Mail)
Choosing Output destination
Click on the Browse button and pick any location of your choice to save the exported files. At last, hit the Convert Now button to actually begin the migration process. This will take a few minutes to complete the migration task.
Now, users need to import EMLX files in Apple Mail. For this, follow the given steps –
Start Mac Mail client and choose File – Import Mailboxes option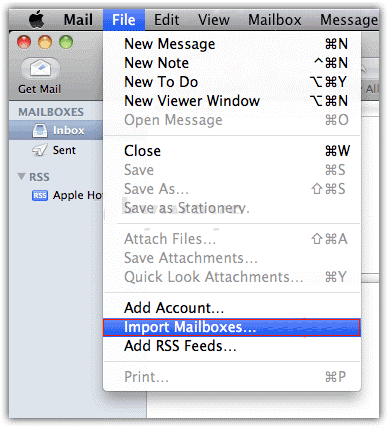 Choose Import data from: Other and click Continue button
Choose EMLX files which you have exported from Eudora. Now, click on Continue button
Time to sum up
After reading the complete article, users can simply export Eudora emails to Mac Mail without loss of any email messages in a few steps. You can complete examine the utility with its demo version before moving ahead for the paid version. 100% safe and timely results are gained by the application.