How to migrate G Suite to IMAP with email attachments?
If you want a solution to migrate G Suite to IMAP in no time, then your search ends here. IMAP to IMAP Migration third-party tool is the solution for you. It is a professional tool that renders 100% perfect results. It helps you to complete the migration with less efforts. Any user can easily migrate G Suite mailboxes to IMAP account without any data loss.
After getting several queries with our support team, we decided to provide an easy procedure to users for G Suite/Google Apps to IMAP migration that takes less time and energy.
This application is very simple to operate and does not ask for any technical help to migrate G Suite emails to IMAP Server. It is an automated and secure way to migrate Google Apps (G Suite) to IMAP.
Procedure for G Suite to IMAP Migration
With the software, migrating G Suite mailboxes to IMAP becomes simple for every user. It has only a few simple steps to migrate Google Apps to IMAP.
Before beginning this migration, take care of a few things like –
Make sure to enable IMAP option in G Suite Account
Less secure apps should be enabled in G Suite account
Steps to enable IMAP in G Suite account
Open your G Suite account
Go to Settings

Click on Forwarding & POP/IMAP.

Enable IMAP option available under IMAP Access

Now, save these changes
Steps to allow less secure apps in G Suite account
Open you G Suite account. Go to Settings option.

Allow less secure apps: On
Once you ensure that both the tasks have been completed by you. Now, you are ready to migrate G Suite data to IMAP account.
Note: Like the above two tasks, you need to perform similar ones on the targeted IMAP account depending on the account. Like for Yahoo, you need to generate a temporary password.
Steps to migrate G Suite emails to IMAP Server with attachments
Only a few simple steps are involved in Google Apps to IMAP Migration. Follow them sequentially to get desired results –
Step 1. Download and Run the software on your Windows system. It hardly takes a few seconds.
Step 2. The software will ask for Authentication. Provide login details of G Suite account that includes –
Host address: imap.gsuite.com
Port No: 993 (provided by default)
Username: email id of G Suite account
Password: password of your G Suite account
Once it is done, click on Authenticate Me option. It connects successfully. If it shows error then it might be possible that IMAP or less secure apps options is not enabled by users.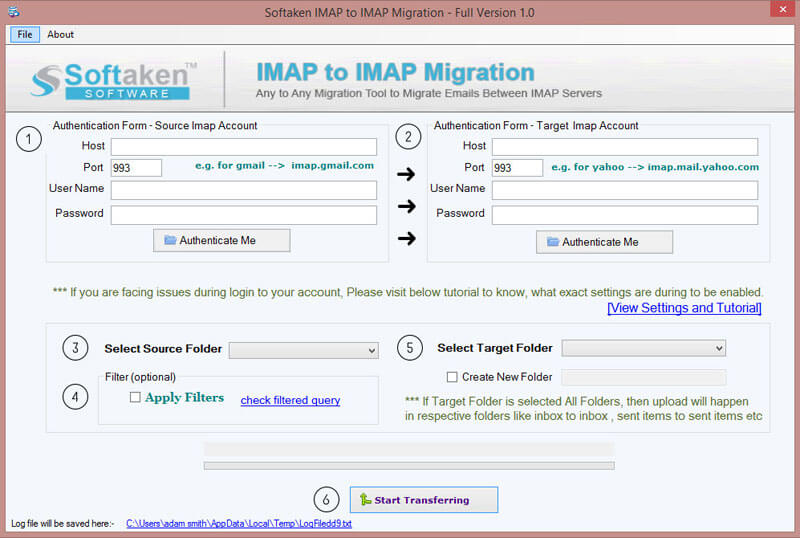 Step 3. Fill details of Target IMAP account, Similar details like G Suite account are provided here like host address, port no, username and password. Enter the required details and click on Authenticate me button.
Step 4. Under Source Folder, provide a particular Email Folder of G Suite account or you can choose all folders option.
Step 5. Mark Apply Filters and you can filter data items to migrate to IMAP from G Suite account based on date range, to, cc, subject, from, etc.
Step 6. Now, choose folder of IMAP account where you want to transfer G Suite mailboxes. Users can simply create a new folder & name it to import G Suite data.
Step 7. Finally, hit Start Transferring option and this commences migrating G Suite emails to IMAP account with attachments.
Migrate G Suite account to IMAP Free
G Suite to IMAP Migrator comes with a free demo version. Its basic aim is users can evaluate the application before paying for it. The demo version transfer only 10 emails from each folder of G Suite account to IMAP Server.
Benefits provided by G Suite to IMAP Tool
There are a lot of benefits that you can get with this application. Some of the major highlights of this application are –
It is fast and reliable application that renders migration results in less time.
It permits users to select the required mail folder from G Suite account to IMAP Server.
Email attachments and meta details are well preserved during the migration process
Filtered data is migrated with the help of advanced filters.
The software works independent. It doesn't need any extra application for migration.
Trust-worthy application. Users can evaluate with trial edition.
Time to end up
This blog will guide users with step by step migration of G Suite mailboxes to IMAP Account. Only a few required details of both accounts for authentication are required and the data migration can be easily completed with a few steps. Users can fully rely on the application that is tested by IT experts.