Save Gmail Account Emails into Flash Drive Uisng Quick Way
Email is one of the most popular mode of communication. And therefore, its use is widespread. From individual to organization level, and for private to group communication, emails are sent or received. Among many email applications, Gmail is one of the most popular. One reason for its such wide use is that, it is user-friendly.
The users of Gmail can forward email present in inbox to any other email account, without a hiccups. However, sometimes situations come when users want to take backup of their Gmail account data in external drives like flash drive. It could be for any reason. Taking Gmail account data in external drive is not as easy as forwarding email. In this article, we are going to discuss various method available for the same.
There are three methods present to take the backup of Gmail account data in the flash drive.
First Method: Copy single email to a flash drive.
Second Method: Download entire mailbox data to flash drive.
Third Method: Save emails in flash drive using the third-party software.
First Method: Copy Single Email To A Flash Drive
This method is suitable for users who want to copy only a few emails in flash drive.
The step by step guide for the same is here
Login to your Gmail account, entering your correct login credential.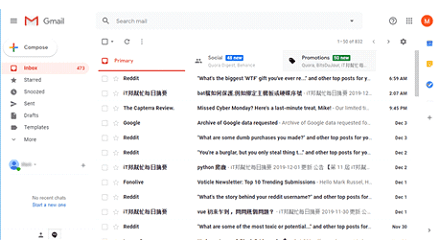 Click and open email that you want to save.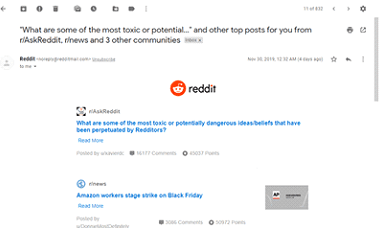 On the right side of the mail, you will see some buttons. Click on the three dots to get full options. Select the 'Download Message' option.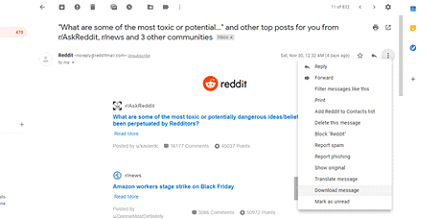 Insert your flash drive. Select its path and save the mail in it.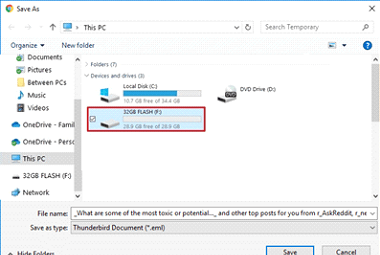 If you want to copy more mails, repeat the same steps.
Note: If you want to download multiple emails to the flash drive, check the second method
Second Method: Download Entire Mailbox Data To Flash Drive.
In this method we will be using the Google Takeout services to save complete mailbox.
Follow the step by step guide to save data.
Open official website Google takeout on your system. The link for the same https://takeout.google.com/
Login to your account
Click on the option deselect and then option, select Mail only.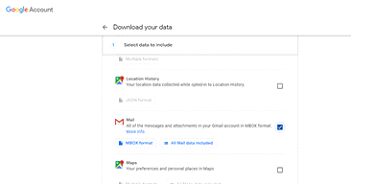 Click the next button after that.
Select option 'One Time Archive' and in file type, select 'ZIP' and in file size, type 2GB.
After that, click on the option archive.
Wait for the process to end. The method will move entire email data of Gmail account in flash drive. However, the downside of this method is that, it might take more than 24 hours to transfer data depending on the size of Gmail file.
Note: Using this method you will be able to transfer only the inbox data in flash drive not other data. Moreover, it takes long time to transfer the file.
Third Method: Save Emails In Flash Drive Using The Third-Party Software.
If you want to be precise in your work and complete transfer of data, then taking the help of third party software is a thoughtful move. And one of the best wizard to do this job is Softaken Gmail Backup. This is a dedicated software for taking backup of Gmail data, which then could be taken in flash drive easily. The software ensures hundred percent backup, that means backup of all the data present in the account, including folders, meta details, attachments, etc. The tool also allows to take backup of Gmail account data in different file formats such as PST, EML, EMLX, MBOX, MSG, etc.
Here is the step by step guide how this software works and convert data.
But before you head to take backup of Gmail account via Gmail Backup tool, do the following changes in your Gmail account.
Step One: Go to Gmail setting page and click on the option Forwarding and POP/IMAP heading.
Step Two: Click on IMAP option in IMAP Access tab.
Step Three: Then in the web browser, click on this URL https://www.google.com/settings/security/lesssecureapps
Step Four: Turn On the option
Step Five: Refresh the page and recheck. The turn on option should be active.
Step Six: Now go to the software part.
Start Working With The Software
Step One: Install and run the Softaken Gmail Backup tool in your device.
Step Two: Enter your Gmail account login details to login to your account.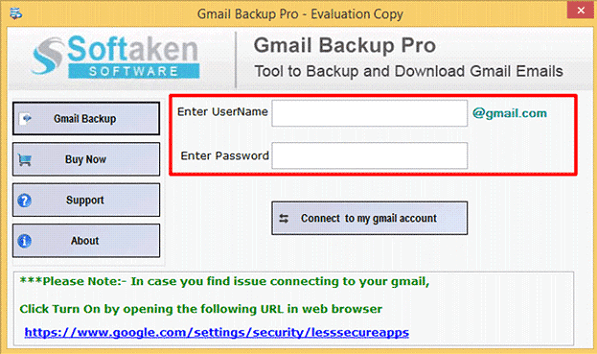 Step Three: You will get the view of data present in the Gmail account. After that, click the next button.
Step Four: Chose folder you want to take the backup. If you want backup of entire email box, then select all folders.
Step Five: Select option in which you want to take the backup. Select your flash drive at this step.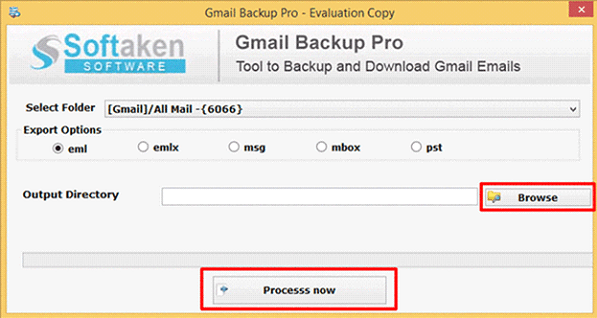 Step Six: Click the next button to start the backup process.
Step Seven: The software shares a log file which you can check to monitor the real time migration.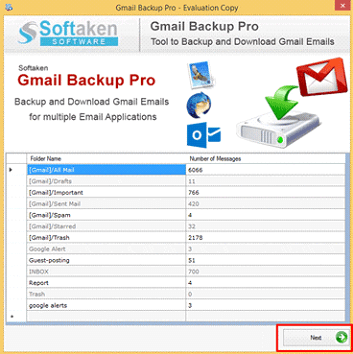 You are done! The data will then move to a flash drive.
Advantages of Using Software For The Job
There are many advantages of using software for the data export. First of all, it has no limitations. And therefore, it is a hiccups free way. The other benefits of using the tool are:
Maintain Data Integrity: When you are moving data, it is important that data integrity should be maintained. The folders, meta details of email, time, subject, everything will remain intact. If you will select all folder, all the folders present in inbox will move to flash drive, including custom folder, contacts, thrash, etc.
Multiple Saving Option: If you want to access Gmail account data in any other email application, the software gives you option to save file in five different formats.
Quick Way To Take Backup- For taking backup of data with the help of software, neither you need to wait for days not hours. It is a highly efficient tool and does quick export of data.
Windows Compatibility - The software is compatible with all versions of Windows including Windows XP, Vista, 7,8,8.1 and higher versions.
Conclusion - In this article, we have explained you three methods to export Gmail account data to a flash drive. We find the software method best as it is versatile and efficient. It offers multiple options to save data and maintains data integrity as well.