Transfer Emails from AOL to Outlook Without any Trouble
AOL is a webmail application and a highly trusted service that stores email messages, contacts, and other information of the user on cloud whom a user can access anytime and anywhere with an internet connection. Despite this, many users want to move to Outlook which is a desktop email application and is very popular among business and personal users. The application manages the whole database of the user in PST format and acts as a personal information manager. Users can access their database in offline mode with MS Outlook. When users move from AOL to Outlook, they need to transfer their emails to access the previous application data to the new application. To make this transfer process easier for users, we help them by describing the solutions in this post. So, stick your eyes to this post till the end if you have the same query.
Need to transfer AOL emails to Outlook
AOL to MS Outlook migration is preferred by users due to the advanced features of MS Outlook application and the facility to access cloud data to the desktop. As AOL is a cloud-based application so users need a smooth internet connection to access the database and risk of data loss because of virus attacks, server issues, hackers, etc. Users are unable to access their important emails. Therefore, users pick MS Outlook application which provides security to their database plus accessibility of the database in offline mode. You are not required to purchase Outlook separately as it is available with MS Office package.
How to transfer emails from AOL to MS Outlook?
The basic motive to migrate AOL emails to Mac Mail is offline accessibility of the database. Plus, Apple Mail has strong features so the data is safe here. It is a free application where multiple accounts are configured without any issues.
Best Approach to export AOL to Mac Mail
Now, the biggest question is how to accomplish the migration task. Finding a reliable and smart solution to move AOL emails to Outlook is not easy. Analyzing this issue, we have provided two solutions here – manual solution and professional tool to carry out the migration.
Configuring AOL account to MS Outlook application
The first method is by configuring AOL account to MS Outlook. No doubt, this method will work but it is a complex procedure and can be handled only if the user has proper technical knowledge. This method also takes huge time in processing. Generally, it is adopted by technically expert users. Let's start with this method –
Open Outlook application and go to Account Settings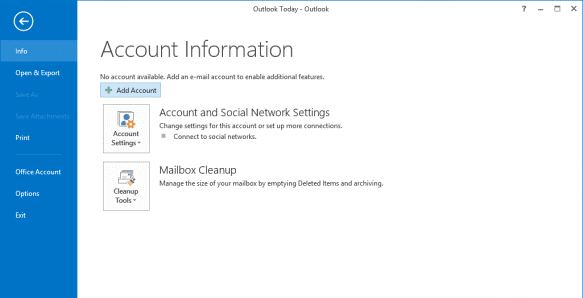 Click on the Email tab and then click on New
Click on Manual setup and hit the Next button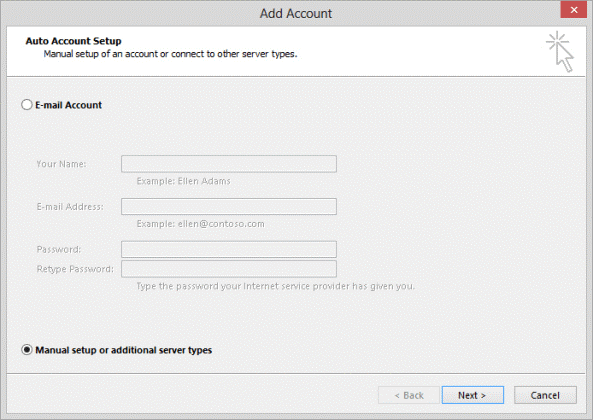 Select IMAP/POP option and click on Next option
Fill all information including user information, server information, and login information. Click Next.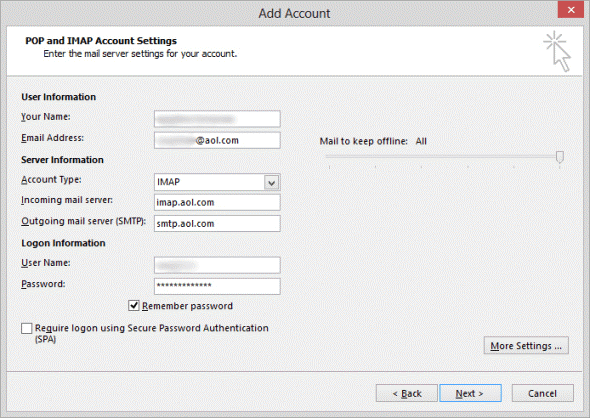 An Internet E-mail settings window is opened, go to Outgoing server head.
Enable "My outgoing server (SMTP) requires authentication" option by tick mark to it and click OK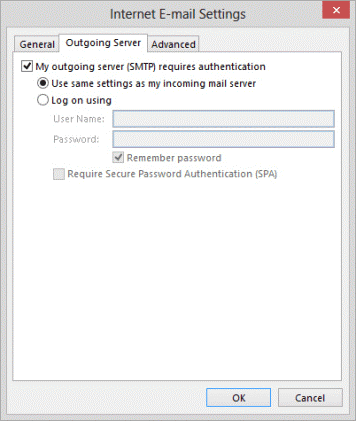 Now, go to the Advanced tab of Internet Email settings window and make a change 587 in Outgoing Server. Click OK and exit.
Now, click on Next button to add account
Click Finish and close Add account window
Finally, click on the Close button and exit the Account Settings window
Professional and smart solution to transfer AOL emails to Outlook
If you are not satisfied and don't want to follow the manual method, then no worries as you can follow the smart and expert recommended solution i.e. Softaken AOL to Outlook Exporter. The application is simple to operate by all users and has few steps in its processing to transfer AOL files to Outlook. Users can decide the database to export as per their needs. The software works quickly without any danger to any file. Let's move to the steps of this software.
Install the application on your Windows PC.
Enter AOL account login details
Select a particular folder or all folders to export
Select PST in Export Options to export in MS Outlook
Now, specify a location of your system to save AOL data and finally, click on Process option to begin the task.
With these simple steps, you will find a file generated to your system as .pst which can be simply imported to MS Outlook. You can move this file to any version of Outlook such as Outlook 2019, 2016, 2013, 2010, and below versions.
Closure
Having gone through this post, you will get two solutions to transfer AOL to Outlook. If the manual method is found not suitable for you, you can simply opt the professional method which is a well-tested utility and provides safe export all the time. To know the software in deep, you can download the demo version before moving to the license version. It is same as the paid version but allows to export 10 items from AOL account to MS Outlook. Plus, in case of any doubt, you can contact the Customer support team anytime.