Transfer emails from Windows Live Mail to Gmail effortlessly – Whole Information
Windows Live Mail is a desktop-based email application provided by Microsoft. On the other side, Gmail is a web-based email client which can be opened from anywhere with smooth internet connectivity. Sometimes, it happened that users who are working on both the clients need to export a few important emails of Windows Live Mail to Gmail. In this case, they started to search for the solution how this export can be performed. With this post, let us know how to transfer WLM emails to Gmail account.
Reasons to transfer Windows Live Mail emails to Gmail
There could be various reasons to export WLM files to Gmail. Here are a few basic reasons that are listed below –
With Gmail, users can access their database any time with any platform.
Gmail is common among users and users are more familiar with the application.
With Gmail, users will get Google drive to keep the system storage balanced.
When working on both the platforms and need to access some vital WLM emails to Gmail account.
How to transfer Windows Live Mail emails to Gmail?
To transfer WLM files to Gmail account, users have two options. Let us discuss them in details. The first option which the users have is a manual solution which needs technical expertise to handle the steps. And the next option is a professional solution.
Manual procedure steps to export Windows Live Mail emails to Gmail
Method 1. Manual method
For this, users first need to set Gmail as an IMAP account in Window Live Mail and then export WLM emails to Gmail account. Below are the steps for this –
Set Gmail as an IMAP account in WLM
Create a new folder in Gmail account
Go to the particular folder of Windows Live Mail from whom you want to export files
Select the files which you want to export
If you want to export all files, then hold CTRL + A to select all files
Holding CTRL key, drag all messages and drop them to the new folder of Gmail account
To import messages which you received into Gmail archive, drop them into All Mail folder
Method 2. Professional and trouble-free method
If you are not satisfied with the manual solution as it is time-consuming and needs technical expertise to perform the conversion. Then, come with us and follow this second solution named Softaken Windows Live Mail to Gmail Importer Tool. It is a highly-checked application to provide easy and secure transfer. Plus, the program delivers several advanced features to make the transfer process quick and trouble-free. Multiple Windows Live Mail files are transferred to Gmail account at a single process of transfer. Plus, users can check this application completely before purchasing it. The tool also generates entire preview and offers nominated files export in a risk-free environment.
Know the working procedure to transfer WLM files to Gmail
Install the application successfully on your Windows system.
Select Folder or File Mode and add EML files from your system.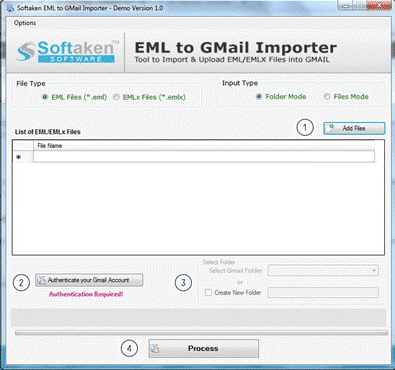 Provide Gmail account login details whom you want to transfer WLM files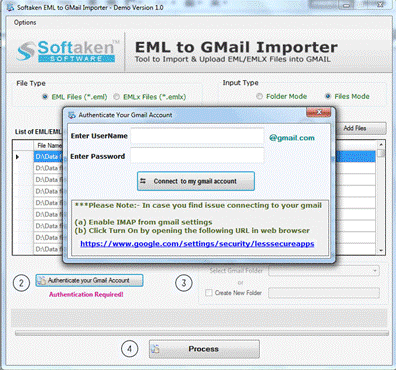 Select the folder or create a new folder in Gmail account to save the files
Move mouse pointer to Process Now button to start the transfer process. It will take a few minutes to complete.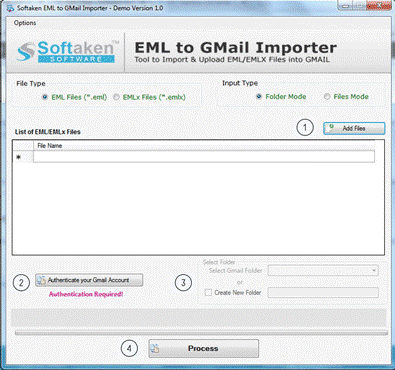 Ending Up
You can simply get two methods with this post by which Windows Live Mail emails can be transferred to Gmail in a few simple clicks. You can utilize any of the methods but we must say try the professional tool if you want a quick and impeccable transfer in a short time period. Before applying for the software, you can take a free trial.