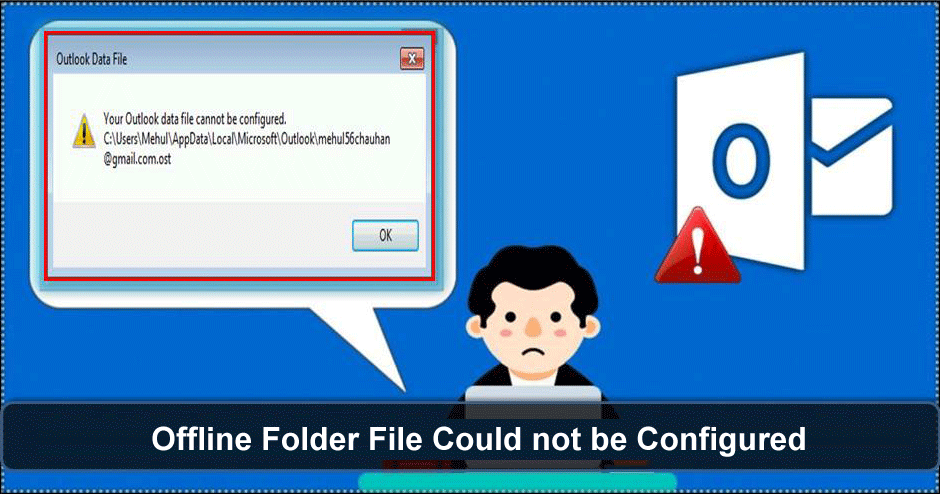 Offline Folder File Could Not Be Configured Error – Get Solutions
Microsoft Outlook has its place in the top list of email clients and this email client is highly used in many corporate organizations. This application facilitates use of mail accounts in offline mode by creating OST file and this is really beneficial for organizations to securely access emails & other data items.
But unfortunately, while using MS Outlook, users are getting several errors and one such error is Outlook offline file is not configured. A lot of users don't understand what triggers this error in Outlook. So, let us understand more about this Outlook error such as reasons and solutions to resolve it.
OST Recovery
Symptoms to check error 'Outlook Offline File Cannot be Configured'
While working with MS Outlook, you will see these pop images and Outlook won't start.
Your Outlook data file can't be configured

Can't start MS Outlook. Can't open Outlook window. Set of folders can't be opened.

Reasons to occur error 'Cannot configure data file in Outlook'
Following are few causes that results in Outlook data file can't be configured error.
Missing OST or PST file: If Outlook get crashed while importing the file then OST or PST file may get misplaced. As a result, the process will be dismissed and Outlook failed to configure the profile you are looking for.
System Crash: If there is system crash while importing data files then this will disrupt the configuration process and hence you get this error message.
Corrupt data file: If OST or PST file get corrupted due to virus attack, force termination, synchronization error, etc. you may get this error message.
Roaming Profile: This error mainly occurs due to roaming profile of Outlook users which are connected with Exchange Server. These profiles are saved on shared network which are helpful for users to connect with their Outlook profiles & communicate with any computer. Hence, after execution of this operation, users get this error saying Outlook data file can't be configured.
Solutions to Fix Outlook Offline Folder File Could not be Configured Error
Try out these quick fixes to resolve the error of Offline Folder can't be configured.
Recheck Outlook files path on your system and reset it to original one if changed
Delete OST file and download it from Exchange
Re-install MS Outlook & try to open Outlook data files
Use Inbox Repair Tool
Now, look at the methods to fix the mentioned error
Manually Fix Offline Folder file can't be configured error
Method 1
If there is an issue with OST file then delete it & recreate by downloading from Exchange.
Open Control Panel on your system and search for Mail
Choose Email accounts under Mail Setup dialog box
From available options, choose Data Files tab and then select Exchange account. Now, go for Open File Location.
Return to Windows File explorer window after closing Account Settings and Mail setup box.
In File Explorer window, right click on Exchange OST file and hit Delete button.
Now, restart your system and try accessing it
After rebooting the system, you will get a new OST file is generated.
There can be a situation when Outlook shows this error message pointing towards .nst file. Many users don't know about this file. Let us know it first.
Method 2
About NST File
It has been noted that most users are not aware of NST file of Outlook. NST file format is created by Outlook when you configure Office 365 in it. This .nst file works in offline mode on Office 365 just like .ost for Outlook. Both OST & NST data files are stored in same folder.
To fix the given error when pointing towards .nst file, go for the mentioned steps:
Step 1. Verify Windows system for corruption
Press Windows + R key
Now type 'sfc/scannow' in opened Run window and press Enter
To execute this command, you must have Admin rights
Step 2. Install Latest Windows Update
Hit the Start button
Type update and press Enter
Check Windows dialogue box. If updates are available, install them by click on Install Updates
Step 3. Clean Unwanted files
Press Win + R
Type Cleanmgr and hit Enter
Pick OS partition and hit Ok
Finally, hit Clean up system files
PST Repair
Method 3.
If you can't start Outlook as your profile is not configured then fix this issue with Scanpst.exe Utility. This free utility is provided by Microsoft to repair Outlook data files.
For using this utility, first exit MS Outlook and do the following:
Browse to C:/Program Files
Go to search box and type scanpst.exe
Open this utility
In new window, enter name for Outlook file that you want to check with this utility
This starts scanning
After scan, it throws out errors. Choose repair option.
Once it gets completed, start Outlook with repaired profile
Note: This Inbox Repair Tool (scanpst.exe) can only help you to deal with minor issues of Outlook data files. So, if the above utility fails to resolve your problem, then you must check out third-party tools.
In such case, we suggest you to go for third-party software provided by Softaken that fixes OST file issues & save all data into PST file. This smartly designed tool works amazingly and allows saving OST file data to many file formats. It is developed to work smoothly with all MS Outlook and Windows operating systems.
Conclusion
By proper research, this post has come up with fixes to solve error 'offline folder file could not be configured in Outlook.' To fix this issue, you can check out manual techniques but if you find them tricky & inappropriate then you must check third-party solution discussed in this post. It will surely help you to access offline folder file in MS Outlook. Moreover, you can get a pre-checking facility for this tool with demo edition prior you invest in it.