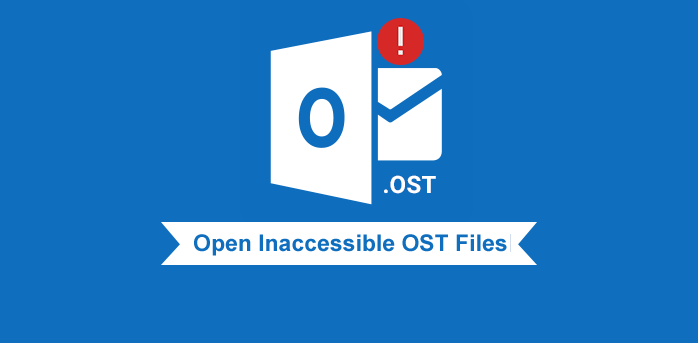 Ways to Open Inaccessible OST Files with Microsoft Outlook
Summary: Inaccessible OST files can't be directly opened in Outlook. Thus, users can't access emails & other items inside OST file in Outlook. This leads to loss of productivity and results in permanent data loss situation if not resolved quickly. Thus, in this tutorial, we have discussed methods to restore mail items like emails, contacts, notes, calendars, etc. from inaccessible OST file to view them into Microsoft Outlook.
Users may sometimes find that OST file become inaccessible or orphan. This may happen when the synchronization between OST file and Exchange Server gets stopped. This can also happen because of disabled or deleted mailbox or Exchange account. Synchronization may also stop if there is mismatch of encryption key due to damage of OST file.
In such case, you will find error when you try to access your Outlook account.

On the other hand, by default OST file is encrypted with encryption key generated by MAPIEntryID GUID. Hence, one can't directly access OST file copied from a PC to another Outlook account.
Methods to use to Access OST file in MS Outlook
To access inaccessible OST file in Outlook, the best way is to convert OST file into Outlook accessible PST format.
Microsoft won't provide any solution for this. But by using third-party tools, one can open, view and export OST file to Outlook 2019, 2016, & 2013 profile. This also facilitates recovering & accessing deleted email items.
You can try out manual techniques to access OST file items in Microsoft Outlook 2019 and below versions.
Method 1. By Recreating OST file
If you have inaccessible OST file and Outlook can't open it, you can recreate OST file. After this, users can view content of OST file through Outlook account.
This is functional only when Exchange, IMAP or Office 365 account is active. This means it should not be deleted or disabled.
Open the Microsoft Outlook program. Then go to Account Settings from File tab.
Go to Email tab and choose your account
Hit change button and click on More Settings button
Under Advanced tab, click Outlook data file settings
Type path of OST file in the appeared box.
Hit OK and the system names this OST as Outlook.ost. If you have file with same name on your system, it will ask you to change the name.
Hit OK and at last, click on Finish button
Now, restart Microsoft Outlook
Method 2. Open Inaccessible OST file data in Microsoft Outlook
This method helps users in accessing relocated OST file on computer.
Open Run window by pressing Win + R key
Type Regedit and press Enter
Now, go to the given locations on the basis of Outlook version which you have installed
For Outlook 2019 users
HKEY_CURRENT_USER\Software\Microsoft\Office\version\Outlook
For Outlook 2016 users
HKEY_CURRENT_USER\Software\Microsoft\Office\16.0\Outlook
For Outlook 2013 users
HKEY_CURRENT_USER\Software\Microsoft\Office\15.0\Outlook
For Outlook 2010 users
HKEY_CURRENT_USER\Software\Microsoft\Office\14.0\Outlook
Right-click on subkey of Outlook and pick New-expandable string value
Specify name ForceOSTpath string and pick Modify
Mention path of OST file that you need to access and hit OK
Close the window of registry and then launch Outlook
Method 3. Automated Solution
In case any manual way is not suitable for you, then you can try out automated program to convert data of inaccessible OST file to Outlook supported PST format.
Tip: This tool allows multiple OST files export into PST format when Exchange Server fails (you don't have backup) or you don't have admin access to Exchange Server.
Steps for conversion:
Install the recommend automated software to convert OST to PST
Add your inaccessible OST file
After preview, pick export option as PST file.
Mention path to save the converted PST file.
Go with Convert Now button to commence the conversion.
This software is fully of advanced features to make the conversion task simpler & effective. It can simultaneously convert multiple files into Outlook imported PST format. After getting PST file as output file, one can open this PST file in Microsoft Outlook any version like 2019, 2016, 2013, 2010, and others.
Steps for Importing or Opening PST file in Outlook 2019 or earlier versions
To open PST data file,
Open MS Outlook. Go to File tab-Open & Export- Open Outlook .pst file
Select your PST file and open it by click on Open button
For Importing PST mailbox data in Outlook 2019, 2016, 2013 and 2010 account, given are the steps:
In Outlook 2010
In Outlook, choose Import option followed by File & Open
Pick option Import from other application or file and hit the Next button
Pick Outlook file (.pst) and tap to Next button
Hit Browse option and choose PST file. Now, again tap to Next button
Choose the email profile, click on 'include subfolders' and hit the Finish button
In Outlook 2013, 2016 and 2019
Go to the File menu. Look for Export and then on Import/Export option
Pick Option of Import from another file or app. Tap to the Next button
Use Browse button to pick PST file. Then, hit the Next button
Pick Outlook profile and hit the Finish button.
Once it is done, restart MS Outlook to access imported data items.
Conclusion
Due to lot of reasons, OST file become inaccessible. Such OST files can't be accessed on any Outlook account. Also, there is no option to directly open such OST file in MS Outlook. So, you must convert the file to Outlook importable PST format to access data stored inside OST file.
As Microsoft won't offer any such utility to access OST mailbox data in Outlook or convert it into PST file. However, you can check out manual ways explained in this post which are not direct and tricky too. Therefore, the best solution is using professional solution to transform all data inside inaccessible OST mailbox file into PST file. Thus, we highly recommend professional program for the conversion of inaccessible OST data file in Microsoft Outlook 2019, 2016, 2013, 2010, etc.