Finding: Is it Safe to Delete an Old OST File of MS Outlook
Are you facing issues or worried about what will happen if you delete OST file? Don't worry! Just visit the useful article where we are exploring the reasons and consequences when OST file gets deleted. Let us know first, what is OST file and why users need to delete OST file?
What is OST File?
When a user creates an account to Outlook, a copy of the data is saved on the system and this helps users in accessing the database when the internet connection is not available. With OST file, you can create messages, read them but can't send them in the absence of internet connection. So, when user's account is connected to the internet, changes made in Outlook account gets synchronized with the mail server.
Now, we will describe the reasons why users need to delete OST file.
Why do Users Need to Delete Outlook Offline Storage Table File?
The most common reason for deleting OST file is synchronization errors. When Outlook does not perform normally in this case, users troubleshoot by deleting the local copy of Outlook. Some users do this but they have a doubt it is safe to delete Outlook offline file or not.
When the system freezes due to overload space issues. This happens due to OST large file size which can also corrupt OST file. In this case, it is better to delete the OST file and recreate it.
Sometimes, users want to check what will happen if they delete OST file. In normal cases, when users delete OST file, the data can be retrieved back when the user account gets synchronized with Exchange Server. But when EDB file becomes inaccessible, users need to repair corrupt OST file and the problem can be solved with OST to PST Conversion Tool. The application is specialized in the recovery of files with simple clicks.
How to Delete Outlook OST File?
Several users have the query is it safe to delete Outlook OST file? The answer is Yes. You can delete OST file. There will be no data loss when users remove OST file as it can be again downloaded from Exchange Server. Along with it, professionals also recommend to take backup of offline storage file into PST format. This will help users to access the data when Outlook profile is not available.
To delete OST file, go through the steps –
Close MS Outlook application.
Go to start menu and open run window, search for OST file in the Run command. Enter the command in Run window – C:Users\UserName\AppData\Local\MicrosoftOutlook, as shown in the picture below –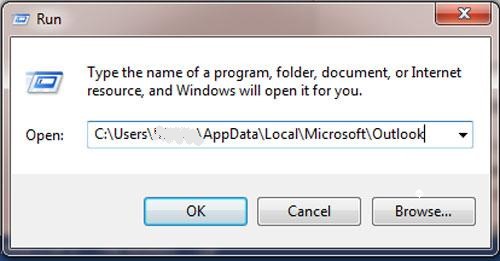 Click OK and OST file location will open.
Select OST file and click Delete. After that, you will get a message of confirmation "Are you sure you want to move this file to recycle bin?" Click Yes and the file gets deleted.
Once OST file is deleted and users need to recreate file to get Outlook to work smoothly. This can be done by creating a new OST file with a different pathname and synchronize it with the Exchange. After that, configure Outlook account and start working with new OST file. Follow the given steps to do this with the given instructions.
Steps to Create a New OST File
Once you got the message of successful deletion of OST file, check if it is still available on Outlook account. Once it is confirmed, follow the steps –
Close MS Outlook program.
Rename existing OST file.
Again, open Outlook. You will receive an error message – The file "C:\Exchange directory\file name.ost could not be found". Click OK.
Go to the Offline Folder File Settings dialog box. Click OK button. Note: You can also change the path or file name of OST file using this dialog
You will receive an error message – "The file c:\Exchange directory\file name.ost' could not be found. Would you like to create it?" Click Yes.
MS Outlook will start in online mode
Go to Tools menu and click on Synchronize all folders.
In this way, OST file gets synchronized with Exchange Server.
Final Words
Communication should be smooth and when it is hampered, users are unable to work perfectly. In case of Outlook client, corruption in Outlook .ost file makes it inaccessible in this case, users can use third-party tool which we discussed in this article to fix issues of OST file and to move it to different locations. Additionally, the doubt of users regarding OST file deletion is cleared with this post.