How can I backup my Hotmail account? It is the question many users ask on the online portal. So, in this blog, we are going to cover every aspect of this condition, such as why is it important to backup Hotmail account data, where one should keep the backup file, which is the best method to backup email files etc.
To start with, Hotmail is a popular email client with all security features in place. However, in the present time, nothing is hundred per cent invulnerable to hacking. Therefore, it is logical to create a backup of data. This backup data act as a source file to retain data when it is lost because of the incidences like hacking, system crash, hard drive crash, etc.
---
Key Reasons You Should Backup Hotmail Account Data To Hard Drive
Your account has been hacked, you have blocked it and have no access to your email account for a while or permanently. The backup file will help you in continuing your work.
Some emails from the account have got accidentally deleted. The backup file will help you regain it.
Hotmail stopped its service for some time and you have no longer access to the account.
In all these cases, the backup file will help users to get the email data back. However, only backing up data is not important. It must be kept in a safe place. System hard drive is one of the secure places or you can choose to save it on the hard drive of other devices as well.
---
The Best Method To Backup Hotmail Email Account Data
The best and proven method to backup Hotmail email account data is with the help of third-party software. The third-party software ensures hassle-free and smooth data backup without error and one of the most trustworthy software for undertaking this task is Hotmail Email Backup for Mac utility. This software is a credible application and has a large user base.
Here we provide the complete guide on how to backup Hotmail mailbox data with the help of third-party software.
Step One: Install and launch Hotmail backup for Mac software on the Mac device on which you want to back up the data.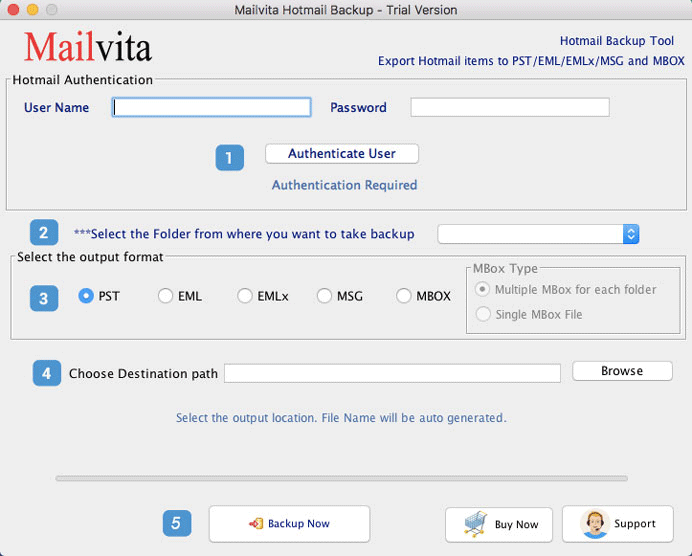 Step Two: In the window, you will get multiple options. Start with the first one, i.e. username and password. Enter the Hotmail account username and password in the respective spaces, and then click on the 'Authenticate User' button.
Once you will click on the button, the software will start connecting the Hotmail account. A message stating 'Authenticated Successfully' will pop up once the software establishes contact with the Hotmail account.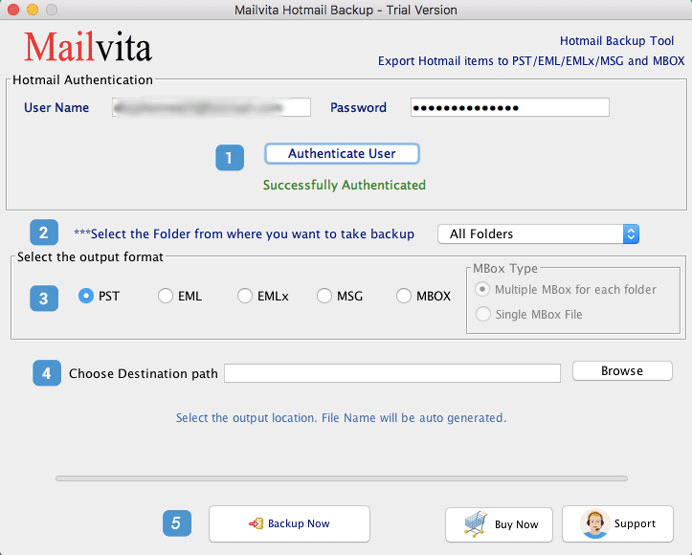 Step Three: In the next step, go to the option 'Select the folder from where you want to take backup'. This option helps you in the selective backup of data. E.g. if you do not have important data in folders like Sent, Draft, Calendar, etc. you can skip that, and choose only those folders that have important data and you want to take the backup of it.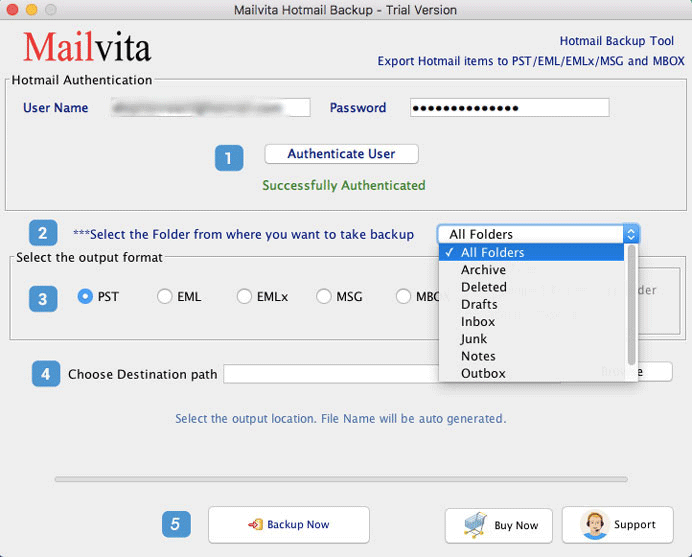 Step Four: In the next step, choose a file format in which you want to save the backup file. The software provides multiple options to backup files. The options are PST, EML, EMLX, MSG and MBOX.
The MBOX format gives two more options. You can either create separate MBOX files for each folder or a single MBOX file for all.

Step Five: In the next step, you can choose a location to save the backup file on a Mac device. Click on the Browse button present along with the option 'Choose Destination Path'. You can select any folder to save files or use the software interface to create a new folder or file. Give a name to the file.

Step Six: Click on the button 'backup now' to start the backup process. The amount of time software will take to back up the Hotmail account mail file will depend on the file size. After the process will complete, the software will back up all the data and save it at the chosen location.

The software is for Mac OS, and therefore you can work with it on any Mac device with any version of Mac OS. It will backup data with complete ease.

In addition to that, the device configuration requirement of the software is also the minimum. It only calls for a Mac OS device with 512 MB of free space to install the software.

The backup file saved in different file formats can be accessed in email clients that support the same file format.

---

The Top Features of Software

Controlling Feature - The software allows you to pause the backup process whenever required.

Standalone Tool - It is a standalone tool. It does not have any other requirement to work except the device with Mac OS.

A Quick Responsive Tool - It responds quickly. It starts taking backup of data as soon as you click on the Backup Now button. The easy interface makes working with the tool easier and advanced configuration makes data backup time the shortest possible regardless of the file size.

Technical Support Softaken provides round the clock technical support to work with the software.

---

How to Check Software Features and Function

If you want to check the features of the software before buying, you can download its demo version and work with it. The demo version is embedded with all options and buttons to undertake data backup. It will also allow you to take backup of 20 emails and data from each folder.

---