How to save PST in ANSI at Latest Outlook Versions
When it communication, internet is the best way to communicate. It is an indispensable part of today's lifestyle. MS Outlook has become one of the best choices for smooth e-communication. Besides emailing, the app has many personal information storage features—tasks, journals, calendars and contacts. It is why Outlook is known as a PIM- Personal Information Manager.
With times Outlook has upgraded its versions to provide the best user's experience. The most common and automatic file format of Outlook is PST that supports ANSI and Unicode file saving methods. The latest versions of Outlook create Unicode versions whereas Outlook 2000-2002 saves data in ANSI.
---
Origin of Unicode PST Format
ANSI has limited data storage capacity up 2 GB which is suitable for home based users but not for professional. Exceeding the limit makes Outlook slow and increases the risk of file corruption. It is therefore, PST Unicode format has been introduced that has storage capacity of 20GB to 50 GB. It has brought lots of differences in working pattern with ANSI and Unicode.
Unicode, the Modern Era PST Format
Unicode is a new age PST format comes with backward compatibility that allows users to access the data on a previous version of Outlook. Though, the compatibility has limits of only opening and reading such PST files. If you want to make editing of Unicode file in a previous version of Outlook, it is must to convert Unicode to ANSI.
---
Creating ANSI PST file in the Latest Outlook Version
Outlook 2003/2007 gave permission to promptly select ANSI or Unicode to save data. Though, soon the option was taken out after the release of 2010. Still you can create ANSI in the latest versions of Outlook. A few manual approaches are required.
Note: The article tells how to use ANSI in Outlook 2013. The procedure remains the same for Outlook 2010 and 2016.
Step 1: Launch the Outlook 2013 and press "New Items". Now take the cursor to "More Items" and then "Outlook Data File"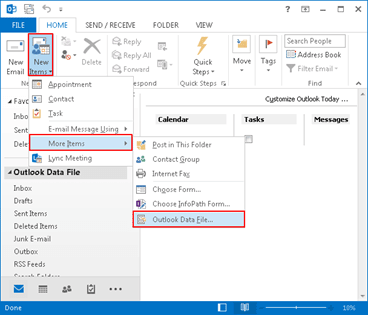 Step 2: Take the cursor to "Save As Type", in the dropdown menu select "Outlook 97-2002 data file to save the latest version PST Unicode file in ANSI format. Save the file in a folder with a new name. That's it.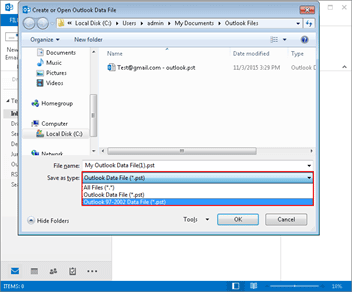 In case you need upgrading of ANSI to Unicode, choose a PST Upgrade tool. There are party tools that upgrade PST ANSI to Unicode swiftly.
---
Related Products