Password Protection of Outlook Profiles & Databases
People have doubts regarding password protection of Outlook Profile and data file. These are two different things for security of Outlook. They feel that password protection of PST and Outlook profile protection are the same things. But these two are different ways to protect Outlook.
These are security layers for Outlook users. But sometimes, these types of protection can put your data in threat in case you forget the password. But we are not discussing on this factor, we will let you know the difference between them.
---
Outlook Profile Password Protection
Outlook is a popular email client to be used on all the Windows based systems. Its user interactive features, multiple account support and good control over its functioning make it an ideal email client to use it personally and officially.
It is obvious that some of your mails are highly confidential and some are not. Keeping the data intact, it is vital to protect your profile from third persons. In this situation, Outlook allows you to create a strong password for your Outlook profile. It protects your profile from unwanted threats.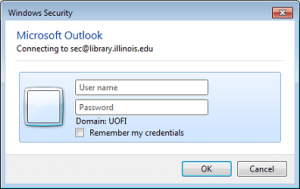 Though, it doesn't need to protect your profile if you are operating Outlook through MS Exchange server as it will automatically manage the data protection.
But if you have protected your Outlook profile you can protect Outlook on the server also.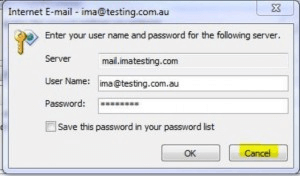 The Windows user credential can protect your Outlook profile. Provide a strong Windows credentials to protect your Outlook app from threats. It will keep information intact because Outlook doesn't support protection for whole profile.Outlook Data File ProtectionYou can protect your PST files from third parties. The feature protect PST file is offered by the MS Outlook itself which allows you to set a password for your PST file. When you are doing this, please prepare a personal diary to jot down the password.To generate a strong password for your PST file,For Outlook 2003 & 2007 versions:
Take cursor to the File menu and then select Data File management
After double click the desirable PST file that you want to protect
You will get a tab Chang Password
---
For Versions 2010, 2013 & the latest 2016:
Visit the "File" menu and then select Account Settings
In this window, choose Account Settings tab for Data files
Click double on the required PST file
A button will appear: Change password
By clicking on 'OK', set the password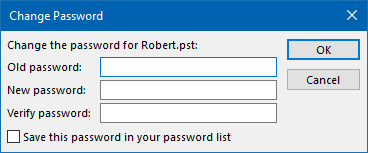 ---
Keep Some Point in Mind:
If you are creating password for the first time, leave the section of Old Password
Don't forget to check the option "Save this password in your password list" to get rid of the password prompt every time while you access your PST file. If you are more concerned about the data security, leave the option unchecked and give the password whenever you access the PST file.
Keep your password remember because MS Outlook doesn't give the option to retrieve password.
Now, we feel your misconceptions or doubts regarding the topic will be cleared.
Use Outlook Password Recovery Software and Unlock PST Passwords Easily