Migrate Outlook Mailbox items to IncrediMail – Complete Guide
A lot of users are searching for the techniques to convert Outlook data to IncrediMail. Due to this, we have come up with a solution in this blog where users can get complete solution to migrate from MS Outlook to IncrediMail. But let us first understand both the clients and the reasons behind this migration.
Common user queries
How to import emails from Outlook 2016 to IncrediMail?
How to move Outlook 2019 data to IncrediMail?
Simple way to transfer Outlook Mail folders to IncrediMail
Basic Introduction – Outlook and IncrediMail
Outlook is one of the favorite email clients of both personal and business users due to its advanced and attractive features. It also works as a personal information manager for users' database and manage complete database in an effortless manner.
IncrediMail is a powerful and colorful application as far as its interface is concerned. The application enables user to manage mailbox items and configure it by using IMAP/POP3 accounts. It provides various elements like 3D effects, animated characters, message decoration, etc. It has a simplified interface and contains several additional features.
Reasons behind Outlook Mail folder to IncrediMail Migration
There could be several reasons with users by which they want to move from MS Outlook to IncrediMail but one specific need is due to change in workplace. In this case, users need to export Outlook mailbox items to IncrediMail application. Since, Outlook uses PST file and IncrediMail uses EML file so when users transfer PST file to IncrediMail, it won't work. Therefore, users require to perform the conversion.
Ways to export Outlook Mail Folder to IncrediMail
Here we are defining two techniques to export Outlook emails to IncrediMail. One is a manual solution and other one is third-party solution. Let us understand both the methods one by one.
Manual way to export Outlook data to IncrediMail
The method needs both Outlook and IncrediMail installed on their system to perform the conversion task. After that, follow the simple steps –
Open IncrediMail client in your system.
Select File option, click on Import & Export and choose Import messages option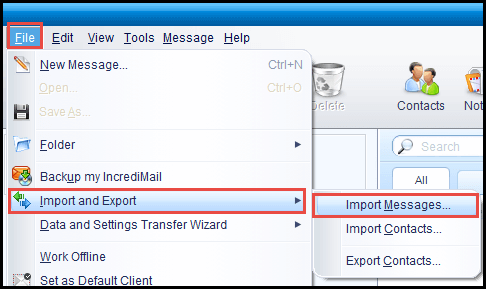 Select Outlook in Import messages window and click Next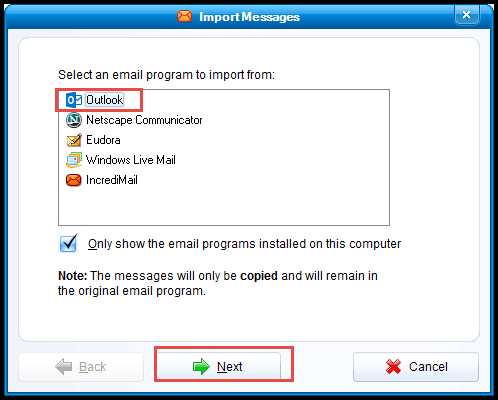 Select the folders you need to import into IncrediMail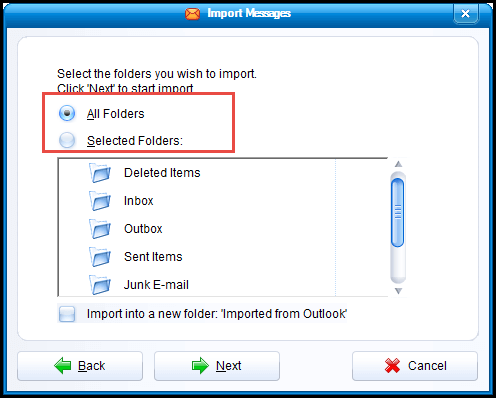 Check the option if you want to import to a new folder and then click Next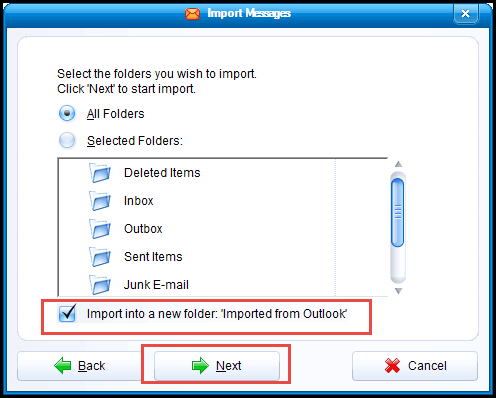 The application will start importing Outlook messages to IncrediMail mailbox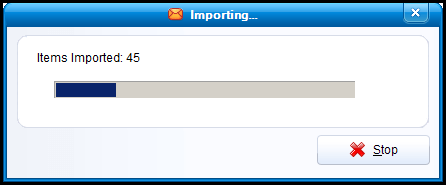 Click Finish once the process gets completed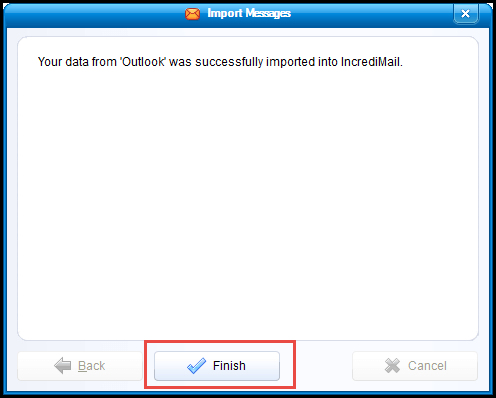 Note: The manual method can be handled by users only when they have proper knowledge of both Outlook and IncrediMail application.
Second method – Third-party solution
The next solution is a third-party tool by Softaken named Outlook to IncrediMail converter. It is a simplified tool that can be handled by users without having any technical expertise. Plus, there are only few steps with the program. The utility exports every large size PST file without any trouble.
Second method – Third-party solution
The program has a simplified interface that can be handled without technical knowledge.
A whole display of complete folders is provided by the application.
The utility deals with every large Outlook data file
It works seamlessly with all Outlook versions – Outlook 2019, 2016, 2013, 2007, 2003, etc.
Export all email attributes (to, cc, bcc, from, sent, etc.) with attachments
Export selected or whole mail folders of MS Outlook
100% accurate and safe conversion of Outlook data
Easy downloading on all Windows operating systems
Maintain complete folder structure and email formatting
Works with password protected Outlook data files
Free demo for examination of the program
Summing Up
We have discussed two methods in this post for migration of Outlook data to IncrediMail application. Users can pick any methods as per their suitability. The tool does not harm any file and provide safe conversion every time. Users can check the tool with a demo edition and take help from customer support team in case of any queries.