3 Smooth Techniques to Sync Contacts of MS Outlook to iCloud
Outlook is a desktop-based email client used to store contacts including email address, phone number, birthdays etc. which helps them to smoothly send emails. Sometimes, users want to backup the Outlook contacts to another place or send them to iPhone directly. In this case, there arises a need to sync Outlook contacts with iCloud. Then the users face challenges how to perform this? The answer of this question is guided in this useful post where we will show methods to export MS Outlook contacts to iCloud.
iCloud is one of the most popular cloud-based storage services. It is available both for Mac and Windows. Users choose iCloud service considering the security features of it. Cloud backup is more safe than local backup. Many users are still unaware of it that keeping PST contacts into iCloud is more secure and is helpful for anytime accessibility.
How to export Outlook contact files to iCloud?
Technique 1. Link Outlook PST contacts to iCloud with iCloud Control Panel
Download iCloud Control Panel to your system and run it. Sign In with iCloud username and password.
Check box for Mail, Contacts, Calendars, and tasks and click Apply.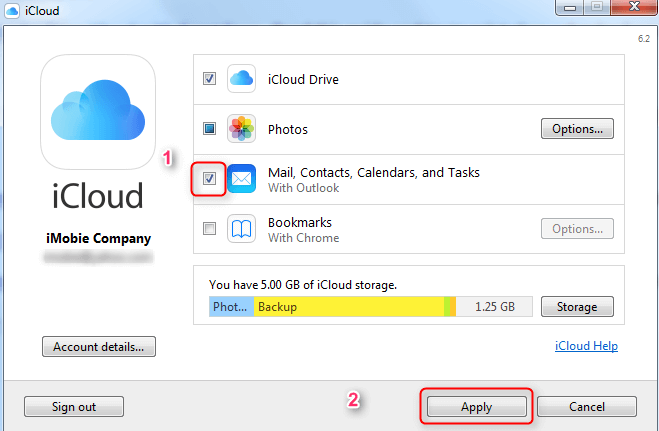 Note: This method links all data including all emails, contacts, tasks etc. You can't sync only contacts separately.
Technique 2. Sync Outlook contacts to iCloud with iCloud.com
For this method, first you have to export Outlook contacts to VCF format. To do this, follow the steps –
Select contacts you need in Outlook
Click on Home and choose Forward Contact and save it as a Business Card
In the next window, right click the contacts in Attached file and choose Select All.
Press Ctrl + C to copy them and paste them to the desired location with Ctrl + V.
Once you get vCard files, follow the steps to import vCard files to iCloud.
Download iCloud Control Panel
Sign in iCloud account on iCloud.com
Click Contacts
Click Gear and click on Import vCard and select Outlook contacts from your system which you have saved earlier. Click Open.
You are ready to access Outlook contacts in iCloud.
Technique 3. Automated solution
Direct import of PST file contacts is not possible as iCloud uses vCard format for contacts storage. If you want to convert PST contacts into iCloud, first convert PST contacts to VCF format and then import them to iCloud storage.
1. Export PST contact details to VCF format
To export Outlook contacts to VCF format, use Softaken vCard Export Import Tool and simply extract contacts from Outlook application. Here are the steps with this utility –
Download and install the application on your Windows PC
Add PST file with the Browse option
Set an Output directory to save the resultant file
Click on Export Outlook contacts and this will save PST contacts into VCF format
2. Import vCard in iCloud
Now, the users need to import vCard files in iCloud. For this, simple go through the steps –
Provide iCloud login details
Click on Contacts
Select Import vCard option
Click on Browse button and add VCF files
You will find Outlook contacts synced with iCloud account
Conclusion
We have elaborated three different techniques to link Outlook contacts with iCloud with complete working steps of this utility. Among them, the software technique is highly recommended to export Outlook contacts into vCard that works seamlessly without any harm and data losses.