Know How to Convert EML File to PST Format
The EML and PST are two different file formats and saves email data differently. EML that stands for Electronic Mail, EML file saves data in partial text format. An EML file contains Meta details of an email like subject, recipient, gender, date, time, hyperlink and attachment. It uses mailing platforms like Outlook, Thunderbird, Apple Mail.
The PST, it stands for Personal Storage Table. It is an Outlook mail file. The application uses the PST file to store a copy of messages, folders, calendar, date, contact, etc. on the device. It contains all the data present in the exchange server. PST is considered as one of the safest file formats. Because of two different file formats, both files data cannot be interchanged. If someone has to open EML data in Outlook or vice versa, then conversion of one file to another format has to be done.
---
How to Convert EML File To Outlook Format
If you have switched from an email client that supports EML file format to Outlook or you have got Email files whose data you want to access on Outlook, then it would not be possible to open and read email files content with converting the data. There are two methods that you can use to convert EML file to PST format.
The first method is manual. In this method, we do not take the help of any plug-in or any software to convert data. The second method is the software method in which we take the help of a professional tool to convert data. Here we are going to share details of both the methods with you. You can try whichever suits you the best.
---
Convert EML File To PST Format Manually
Before you start converting EML file to PST, we recommend you to take the backup of EML file. This is for safety reasons. Suppose it's something went wrong, you will have your data in the backup file. After taking the backup, follow the step-by-step guide.
---
There are Three Methods of Converting Data Manually
Convert data using Windows Live Mail and Outlook
Start MS Outlook and Windows Live Mail applications on the system. If you don't have any of the emails, then download the same.
Note: Window is of Windows 7 but it is possible to open the same on Windows 8 and 10 as well.
At first, open Window Live Mail and click on the option File, then the export option. In this option, select the Email messages.
You will see multiple options, select the Microsoft Exchange as the export option and then tap the Next button.
At the end of the process, a pop-up message will appear with the message that all e-mails will be exported to Microsoft Outlook/Microsoft Exchange.
Tap the OK button after that.
Click on Select folders option present at the taskbar. You will get two options within this option, export all email folders or select the particular folder. Chose the first option if you want to export all folders or the second option.
Click on OK button after that.
After you complete the steps successfully, an Export complete wizard will appear, click on the Finish button after that.
Once EML file data exported to Exchange Server, you can access it on Outlook easily as it also uses the same server to send or receive files.
---
Use Outlook Drag and Drop Method
You can choose this method if you don't have EML file supporting email application in your device, and it is not possible to download the same as well. The method is preferred when EML files are separately saved on the computer. For this, you need the Outlook email application.
So, at first, open Outlook application on your device.
Browse the location of the EML file, then select the file.
Drag the file and drop it in the Outlook application.
EML is also an Outlook compatible file. You would be able to read the EML file content by doing this.
---
Use Outlook Express to Move EML Data to Outlook
Outlook Express is again a mail client that supports EML format. If you have Outlook Express in your device, then drag the EML file in the mail. After that, follow these steps.
Launch Microsoft Outlook on your system.
Click tab File in Outlook and, then go to the option Open and Export.
Click on the option Import/Export.
Next, choose option Import Internal Mail and Addresses, then Outlook Express, then press the next.
Click on the finish button to export .eml files to Outlook.
---
What Are The Limitations Of Manual Process?
The manual process of converting EML data to PST has three methods and it is easy as well. However, it comes with certain limitations. Some of the downsides of using the manual method are:
The manual method requires lots of setting changes. A single mistake in setting might lead to data loss or data compromise, especially when a user is doing it for the first time.
Hundred per cent migration of attachment is not a guarantee in the manual process.
When a user has multiple EML files to transfer data. It becomes difficult for users to convert data as it is time taking.
The chances of alteration in email meta details, header, etc. remain very high.
---
Why Professional Softaken EML Converter Tool is The Best?
To make the process of data conversion easier and faster for users, Softaken has developed an EML converter tool. This software is embedded with many features that make data conversion flawless. Some of its top features of the software are:
The software ensures easy and quick conversion of .eml files to .pst.
The software allows converting any size and number of EML file to PST.
The Software is compatible with email clients like Outlook Express, Eudora, Windows Live Mail, Thunderbird and other email clients that create EML file.
It is supportive to all versions of MS Outlook.
The Softaken EML to PST converter tool can export EML file data to Office 365 and Live Exchange.
It has a preview option to check content before saving.
It gives the option to remove duplicate items from the file.
Allow converting EMLx file as well.
---
Step By Step Guide How Software Converts EML File to PST
Install the software on your device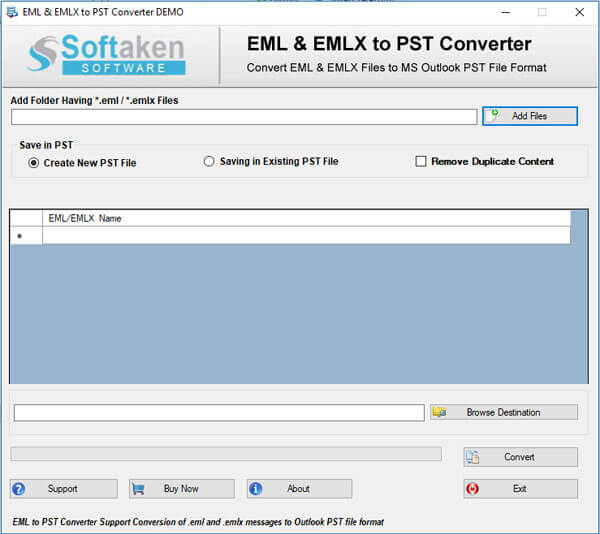 Click on the add button to upload EML file in the software
You can either upload the file directly, or you can use the browse option to select a file from the location and upload.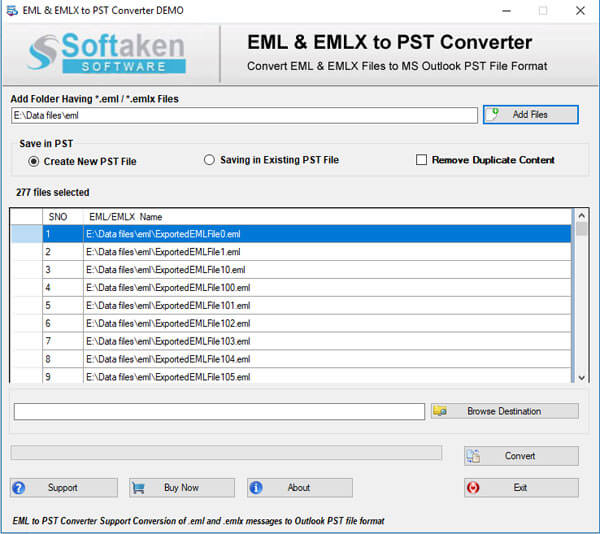 Select option Save in PST To Convert File.
Browse the location where you want to save the file.
The software also has a demo version which you can download free of cost to its features and function. The demo version will let you save only ten emails of EML file. For full conversion, buy a license of the software.