How to prevent migrating duplicate items from source to Office 365 and Live Exchange.
Softaken Tool is the best tool in the market as it migrates the complete data of the source mailbox to the target exchange mailbox by default. However, if you want to migrate the same source mailbox one more time, it might create duplicate items in the target source.
However, if you wish to make certain changes in the source mailboxes or if you want to migrate the items that might appear after performing the migration process, using the regular migration method might create many duplicate items in the target mailbox. To avoid these kinds of situations, you can use the options provided under the Softaken exchange server that will prevent all kinds of duplicity in the target mailbox.
Make sure you follow all the below mentioned steps without creating any duplicate items in the target mailbox.
If you are planning to migrate items for and to the mailboxes for the first time, you must check the 'Export Duplicate items' option. This option will migrate the items for the first time. However, if you are thinking that what's the point of using this option if it itself mentions duplicating items, then the answer is simple. There is no chance that any duplicate item will appear in the first migrations and by clicking this option, the migration speed will automatically increase as the software will stop checking for any duplicate item.
Now all Items from source mailboxes to target are migrated.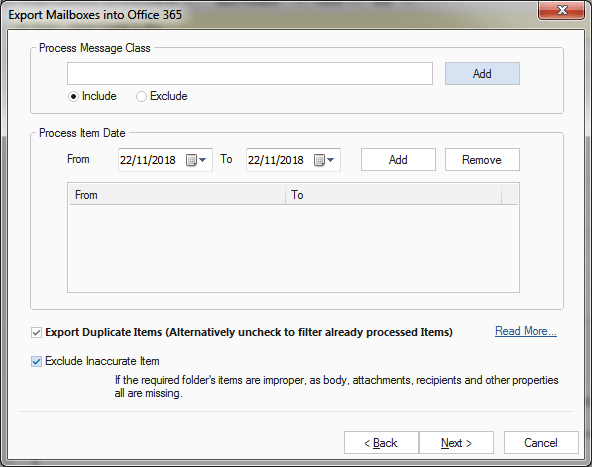 In case you want to perform the migration task for the second time in order to include all those items that appear after beginning the first migration process, then you need to follow these guidelines. First of all, make sure that any kind of folder mapping has been performed by you in the previous or first migration process. You need to configure the same folder mapping for this time as well.
However, if you are performing the mapping separately, it would not be possible for you to prevent the duplicity of the items in a different folder of the mailboxes.
Now do not forget to check 'Export Duplicate Items' and it will prevent the software from migrating all those items that have been migrated in the previous migration process.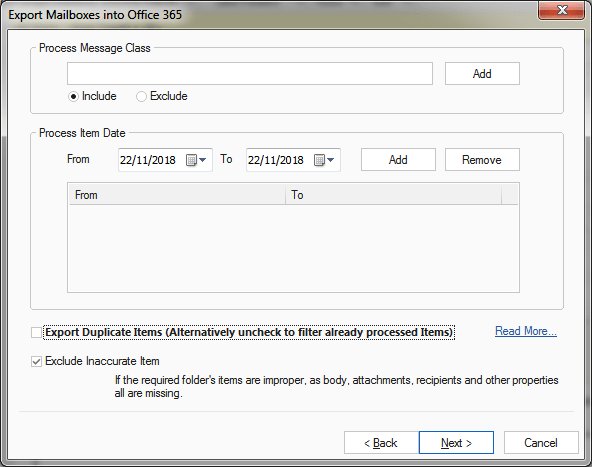 Many users follow this method as it both effective and efficient; it consumes much time to migrate the items in the target mailbox. It becomes a hectic task as the software checks each file whether it is already migrated in the target folder/mailbox or not. Another way to migrate the files is by applying the date filter. You can manually select the date for the first migration so that the items that were once migrated will not be migrated one more time.
Related Blogs